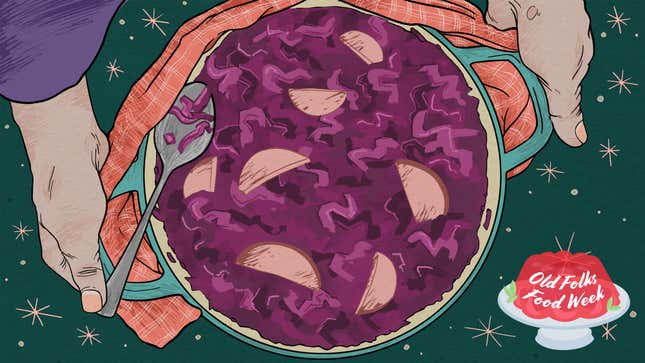 Welcome to Old Folks Food Week, where we resurrect and celebrate the delicious dishes of yore.
---
My Oma is the venerable cook behind many of my favorite cold-weather comfort recipes: spaetzle, anise-laced Christmas cookies, brandy-soaked stollen. And though her red cabbage is equally tasty in winter months, I prefer it during the later summer when there's a hint of fall in the air (but not enough to curtail your bratwurst-grilling plans). You don't need to be a whiz at German cooking to make it: It's easy and uses ingredients you probably already have in your pantry.

Of course you'll need to procure the heads of red cabbage, which in less than an hour are transformed into a soft-but-not-mushy, tangy-but-not-sour surprise hit. "Seriously Kate, cabbage is going to rock my next grilling party?" Yes, yes it will. (For doubting her, Oma would playfully smack your butt with a spoon, which she wields as a culinary wizard's wand and, less often, as a gentle weapon.)
Though the green apple in this recipe doesn't actually come through in the final dish—you won't be asking "Hey, is there apple in this?"—it's a green apple's balance of sugar and acid that best describes the overall appeal of this side dish. It's not funky or fermented like sauerkraut but acts as a similar foil to grilled, rich sausage. (A note on sausage: Yes, red cabbage is great with brats, but have you tried it with veal weisswurst? Divine.)

Without further ado, take it away, Oma:
---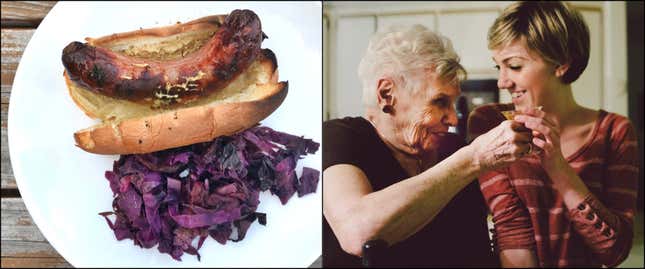 Oma's Braised Red Cabbage
3 Tbsp. butter
Two medium heads of red cabbage, shredded
One green apple—peeled, cored, and thinly sliced
Small white onion
5 whole cloves
Bay leaf
1 Tbsp. sugar
2 Tbsp. apple cider vinegar
1/4 cup water
1/2 cup red wine (Oma says not to waste the good stuff on this)
Salt to taste
Tbsp. flour (optional)
In a Dutch oven on the stove, melt butter. Add the cabbage and apple. Poke the cloves into the whole onion, and add the onion to the pot along with remaining ingredients. Cook over medium heat, stirring occasionally, for about an hour or until cabbage is soft but not mushy. Add salt; taste and add vinegar if necessary. If it seems soupy, add flour. Serve warm.