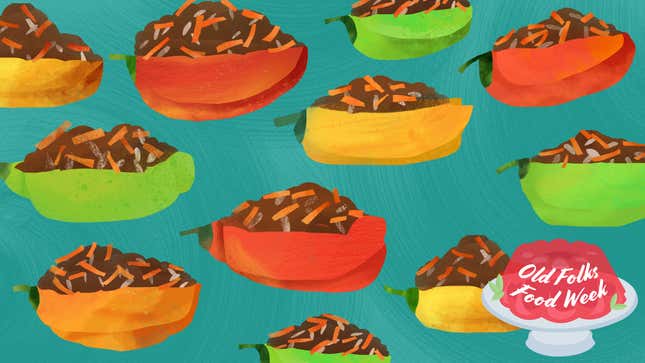 In Hasty Gourmet, The Takeout writers offer reliable recipes that are dinner-party worthy with only a handful of ingredients and a minimum of effort.

All the Best Finds at the Sweets & Snacks Expo
Call it the circle of casserole life: As I've mentioned, my grandmother loved casseroles (that I imagine were rather horrid in the post-war era). Consequently, my mother hated casseroles. Most meals of my childhood life—unless it was a special lasagna occasion—consisted of protein, starch, vegetable, milk. All four food groups, separately. Eat up, kid.

Soon after I started cooking for myself as a young adult, I lunged for any Betty Crocker vintage cookbook I could find at garage sales or the thrift store. Once I had kids of my own, I found casseroles indispensable. I get that my mom was still in some form of arrested rebellion, but to my mind and for my money, there is nothing that beats the one-dish, one-pan supper, rivaling the wheel in terms of its contributions to the human race. Naturally, my kids will probably never make casseroles once they grow up, continuing the never-ending casserole cycle.
So I've spent considerable time going through the vintage dishes of (other people's) youth. Consider: The stuffed pepper. I soon discovered that I was not the kind of person who was about to polish off an entire bell pepper with my dinner. Also, I found the stuffing process kind of unwieldy, followed by the considerable sloppiness of dumping tomato sauce over the whole thing.
I did love the "stuffed" part of the stuffed pepper though, so I made some adjustments. I cut the blanched peppers in half and laid them face-up at the bottom of the casserole dish for easier access and better pepper-to-stuffing ration. And I amped up that stuffing with a dose of sausage—chicken sausage, chorizo, use your imagination (although I'm partial to bacon sausage). Just slip it out of the casing and crumble as small as possible and brown with the ground beef. Me being the way I am about seasoning (more is always better), I don't stop there, shaking liberally from the oregano and paprika containers.
Lastly, you need a sharp, meltable cheese for the top. Here I used a white cheddar, but you could also amp it up with gouda. (But save your mozzarella and jack for some lamer dinners.) And I refuse to muck this whole thing up with extra tomato sauce.
The result may veer from your traditional stuffed pepper—it's really more stuff than peppers—but several years later, this meal remains a favorite at our weeknight table. And yes, one of the best parts is that very few dishes are used. Grandma would likely approve. (Note: can also be assembled in the morning to be popped in the oven at night.)
---
Gwen's "More Stuff" Stuffed Peppers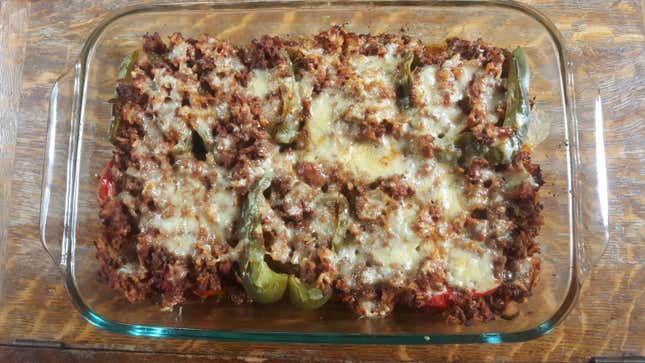 Serves 4-6, depending on hunger
1 Tbsp. olive oil

4 bell peppers

1/2 cup chopped onion

2 cloves garlic

1 lb. ground beef

2 links sausage, out of the casing

8 oz. crushed tomatoes or tomato sauce

1 cup cooked white rice

1 Tbsp. oregano

1 tsp. paprika

Salt and pepper to taste (at least 1 tsp. apiece)

Shredded sharp cheese (like cheddar) to cover

Fill a large pot with water and set to boil. Cut the tops off the peppers and scoop seeds out. Put the peppers in the boiling water for about five minutes. Drain.
In a large saucepan, sauté the garlic and onion in oil until translucent. Then brown the sausage and ground beef in the same pan. Drain excess oilwhen done, and add tomatoes, rice, and seasonings. Combine and cook through.
Cut the peppers in half and lay on bottom of rectangular casserole dish. Cover generously with stuffing and top with cheese and a final dash of paprika. Bake at 350 degrees Fahrenheit for 30 minutes or until cheese browns.