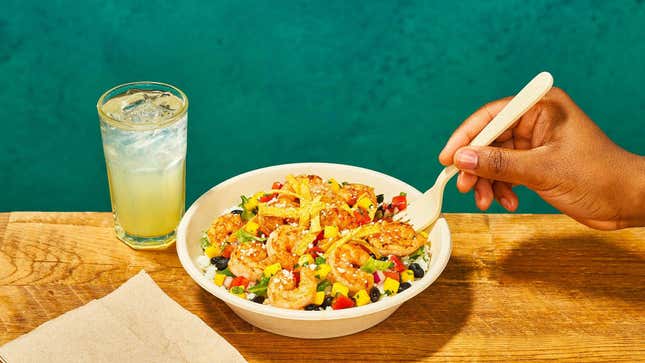 There's no question that Chipotle is one of the strongest counter service restaurants in America. Its point-and-pick ordering process (similar to Subway's) and its fresh ingredients prepped daily have long inspired a loyal fan base, securing Chipotle the top position in the Mexican fast casual space.

How To Dispose Of Cooking Grease The Easy Way After Frying
But financial success breeds competition, and direct Chipotle competitor Qdoba has drawn up a road map for its own ambitious future. A new press release heralds the company's plans for "rapid expansion," and it seems to have a lot of momentum behind it.
Qdoba vs. Chipotle
At a glance, Qdoba seems awfully similar to Chipotle: It has the pick-your-entrée-style ordering system, along with the point-and-pick assembly line of fillings and condiments, letting you design the burrito, bowl, or tacos of your dreams. But the differences lie in the details.
While it serves tacos, salads, burritos, and bowls, just like Chipotle does, Qdoba offers one thing that Chipotle doesn't: nachos. I've always thought it was slightly curious that Chipotle doesn't serve them, considering the chain is known for having great tortilla chips and all the proper components are right there on the assembly line.
Qdoba's proteins are also notably different. The menu features similar styles of chicken, steak, and pulled pork (similar to Chipotle's carnitas), but it also has a ground beef option, beef birria (with the same shredded texture as Chipotle's barbacoa), and a vegan option, Impossible crumbles, in contrast to Chipotle's tofu-based sofritas. Qdoba also has a whole wheat tortilla option in addition to the standard white flour one.
A few of the salsas and sauces stand out as well, including two kinds of top-level spicy salsa roja (as opposed to Chipotle's one option), a new mango salsa, spicy ranch, and a citrus lime vinaigrette. There's are two types of queso (3-Cheese and Diablo) to Chipotle's one, and you can order pickled vegetables, tortilla strips, and cilantro as add-ons. Oh yeah, and here's the kicker: the first portion of guacamole is free.
Qdoba's expansion plans
Right now, Qdoba has 750 locations in 45 states. According to its latest announcement, it aims to double that amount in the next decade, with concrete plans to open 40 new storefronts this year, 60 next year, and over 80 in 2025.
"We are in the process of aggressively accelerating new restaurant development in partnership with existing and new franchisees," said John Cywinski, CEO of Qdoba parent company Modern Restaurant Concepts. "Once our pipeline is fully established, we expect to sustain a 10% annual growth rate through new restaurant development."
Qdoba still has a long way to go if it wants to catch up to Chipotle, however. As of 2022, Chipotle had almost 3,200 locations with plans to increase that number to 7,000 stores. That's a lot, even though, to put things into perspective, this still pales in comparison to Subway's 20,000+ locations.
Nevertheless, the huge investment currently being put into Qdoba illustrates the exploding interest in Mexican fast casual as a staple cuisine in America. Taco Bell is one thing, but free guac will always be a good selling point.