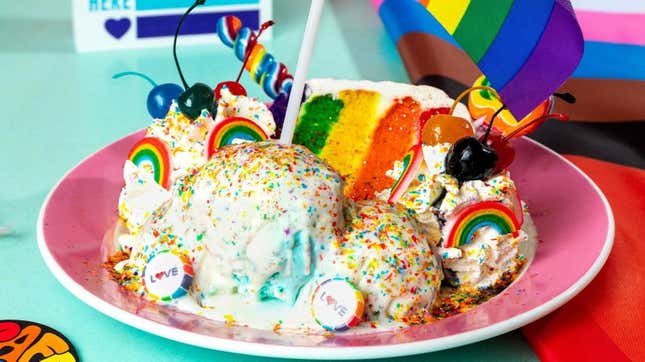 Each year during Pride Month, various consumer brands release special packaging and other promotional campaigns in a show of support for the LGBTQ+ community. Among those that do, the best products are those that use the occasion of Pride to give back to the organizations that work year-round to effect positive change. Here is a sampling of brands whose Pride Month celebrations let you put your money toward a good cause and show off a festive spirit at the same time.

How To Dispose Of Cooking Grease The Easy Way After Frying
Gong Cha: This bubble tea brand, which has hundreds of international locations and more than 150 in the U.S., is offering a new drink in honor of Pride. The sweet and sour Lemon Ai Yu bubble tea features white pearls and glitter for a festive sparkle. This product is available until the end of June, and a portion of every purchase will go to the National Queer Asian Pacific Islander Alliance.

MOD Pizza: Starting June 5, MOD Pizza will be offering, for a limited time, a Pride Cake, which consists of vanilla cake, a cream filling, and is covered in a vanilla frosting and topped with rainbow sprinkles. (Sort of looks like a Little Debbie Zebra Cake.) Part of each Pride Cake sale will go toward supporting the It Gets Better Project, a global nonprofit organization for LGBTQ+ youth; MOD has guaranteed a $50,000 donation. The Pride Cake is priced from $3.39-$3.89 in the U.S depending on location.
Next Level Burger: This exclusively plant-based burger chain is celebrating in June with an all-new menu offering: ThePeachy Passion Pride Shake is made with organic soy or organic coconut soft-serve ice cream, organic peaches and passionfruit, and whipped cream on top, plus rainbow sugar and a rainbow gummy that says "LOVE." The shake is $7.45 for a small, $8.95 for a medium, and $11.45 for a large. The staff at each Next Level Burger location will choose a local LGBTQ+ nonprofit organization to which the restaurant will make a donation.
Serendipity3: The New York–based ice cream company with a 70-year history is partnering with The Stonewall Inn Gives Back Initiative to offer up two Pride-themed items for the month of June. Serendipity3 will be serving a "Love is Love Sundae" and The Stonewall Inn IPA. The sundae consists of a slice of rainbow cake with rainbow swirl lollipops alongside three scoops of Birthday Cake ice cream drenched in white chocolate sauce and covered in a rainbow confetti white chocolate shell flying a rainbow PRIDE flag. Plus, it's dusted with rainbow glitter and topped with whipped cream as well as green, red, blue, yellow, and purple maraschino cherries, rainbow candies, and rainbow "LOVE" watermelon-flavored candies. (We know that's complicated, so just look at the photo above.) The sundae will sell for $29.95 and the IPA will go for $10, with a portion of the proceeds going toward SIGBI.

Shake Shack: The burger chain is giving customers the option to add sprinkles to any of its shakes for an additional 50 cents. The proceeds from each sprinkle add-on will go to support PFLAG National, an organization dedicated to supporting, educating, and advocating for LGBTQ+ people. PFLAG has more than 400 chapters and 325,000 members nationwide.
Although the glittery drinks and rainbow-striped fare might only feature on menus throughout June, you can, of course, support these organizations all year long.