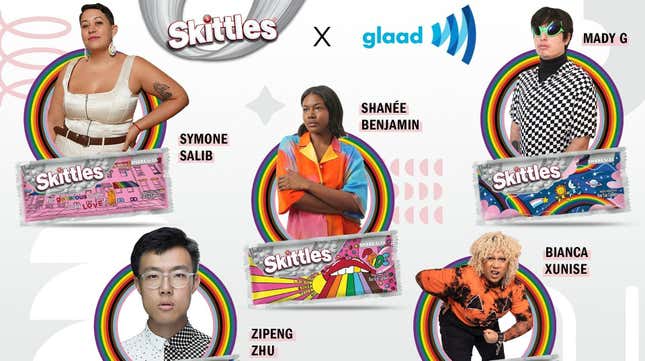 Skittles have always been a little gay. The candy's slogan is, after all, "Taste the rainbow." The brand is surely aware of this alignment, as in 2017 it introduced a colorless bag of all-white candy in honor of Pride Month, confusingly eliminating the candy's year-round rainbow in an act of solidarity. Though the promotion was ill-received by some, Skittles went white again in 2020. Last year, however, the brand took a different approach.
Dr. Pepper Strawberries & Cream Is Tearing Us Apart
While the candies were still colorless in 2022, the packaging wasn't: five queer artists were chosen to feature their unique and vibrant designs on the otherwise gray bags. This year, Skittles is doing it all again, with new designs from five new artists gracing the share size bags of Skittles from May through mid-July. The company will also again donate $1 from each pack sold (up to $100,000) to GLAAD.
As outlined in the Skittles press release, this year's artists all come from diverse race and gender backgrounds, but currently reside in New York, Philadelphia, or Chicago. The designs on the Pride packs all heavily feature rainbows and inspirational words.
My favorite of the five designs comes from Brooklyn-based illustrator Shanée Benjamin, featuring a rainbow emanating from a red-lipped mouth with a gold tooth. I think I'm most drawn to this one because I've always had a fascination with illustrated lips. I have a lip tattoo complete with vampire fangs on one of my shoulder blades, and I have lip stickers on my water bottle and my notebook. If the artist sold stickers of this design, I would happily buy one.
It will be interesting to see which other food brands embrace the corporate Pride trend this year. Last year, Oreo introduced Pride-themed cookies that were stamped with the word "PROUD." (Sadly, however, they did not come with rainbow creme.) Oreo is also a "principal partner" with this year's Auckland Pride festival, although New Zealand's Gay Express is critical of the partnership, as Oreo's parent company, Mondelez International, is a global conglomerate that is contributing to deforestation in Indonesia and uses child labor in its African cocoa plantations—not exactly socially conscious behavior.
Mars, the company that makes Skittles, is no saint either. Last summer, it was subject to a lawsuit alleging that Skittles were unfit for human consumption due to their use of titanium dioxide as a coloring agent. But since the Pride edition candies are colorless and therefore might not contain the ingredient, perhaps Mars is actually helping humanity with what on the surface looks like a PR stunt. Maybe corporate Pride isn't always terrible.