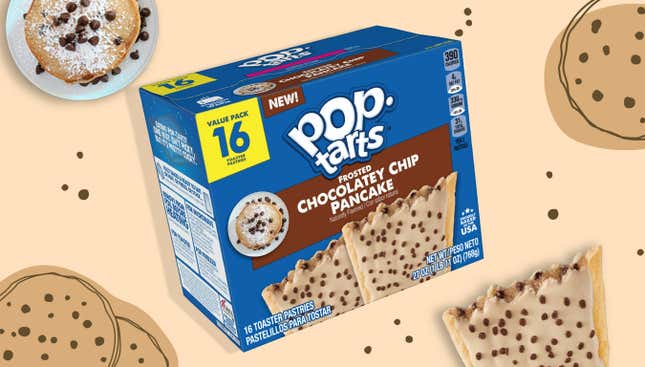 When it comes to Pop-Tarts, consumers are willing to concede a few points: Yes, this is more dessert than breakfast. Yes, you can still eat them as early in the morning as you like. No, you do not have to toast them or warm them in any way to enjoy them. And yes, this "breakfast" pastry is allowed to stray as far from breakfast-adjacent flavors as it pleases, because we love to see Pop-Tarts take big swings. While the two newest flavors announced this week aren't the wildest we've seen, they're still as playful as we've come to expect from the brand.
How To Dispose Of Cooking Grease The Easy Way After Frying
Starting this month at Walmart stores nationwide, you can purchase the all-new Frosted Chocolatey Chip Pancake and Frosted Strawberry Milkshake Pop-Tarts flavors for a suggested retail price of $4.86 per box. The two flavors will roll out to other retailers starting in December. The description of the new pancake flavor admittedly does sound pretty irresistible:
"Each bite of Pop-Tarts Frosted Chocolatey Chip Pancake delivers that classic taste of a fresh off-the-griddle pancake stack just like your local diner would make. Featuring actual chocolate chips in the filling, for a burst of melty chocolate chip flavor with each bite, the flaky and buttery toaster pastry is then topped with sweet maple flavored icing and sprinkled with decadent chocolate chip flakes."
Hopefully it has enough maple flavor to distinguish it from the classic Frosted Chocolate Chip offering. And, uh, enough chocolate chips to distinguish it from the Eggo Frosted Maple offering. I've also never found Pop-Tarts to be particularly "flaky and buttery," unless, of course, they're buttered before eating.
The Frosted Strawberry Milkshake Pop-Tarts technically aren't new; it's an early-'00s flavor that is coming back "thanks to the many passionate fans advocating for its return." Additionally, the perennial Pumpkin Pie Pop-Tarts flavor has returned to store shelves nationwide for a limited time (if you don't see it yet, it should arrive within the next couple weeks).
A complete list of Pop-Tarts flavors
These three new and returning flavors are just a drop In the bucket of Pop-Tarts' full lineup, however. A peek at the website confirms that, just like Oreos and Cheerios, there are a lot more flavors than you probably knew about, and far more than the average consumer has ever even seen at the grocery store, let alone tasted. See how many of these 24 (!) Pop-Tarts flavors you recognize:
Frosted Banana Bread Pop-Tarts
Apple Jacks Frosted Apple Cinnamon Flavor Pop-Tarts
Red, White, and Blueberry Pop-Tarts
Frosted Blueberry Pop-Tarts
Frosted Brown Sugar Cinnamon Pop-Tarts
Frosted Cherry Pop-Tarts
Frosted Chocolate Chip Pop-Tarts
Frosted Chocolate Fudge Pop-Tarts
Frosted Confetti Cupcake Pop-Tarts
Frosted Cookies & Crème Pop-Tarts
Frosted Grape Pop-Tarts
Frosted Hot Fudge Sundae Pop-Tarts
Eggo® Frosted Maple Flavor Pop-Tarts
Frosted Raspberry Pop-Tarts
Frosted S'Mores Pop-Tarts
Frosted Strawberry Pop-Tarts
Frosted Wildlicious Wild Berry Pop-Tarts
Snickerdoodle Pop-Tarts
Unfrosted Blueberry Pop-Tarts
Unfrosted Strawberry Pop-Tarts
Unfrosted Brown Sugar Cinnamon Pop-Tarts
Frosted Chocolatey Chip Pancake Pop-Tarts (new, limited time only)
Frosted Strawberry Milkshake Pop-Tarts (returning, limited time only)
Pumpkin Pie Pop-Tarts (returning, limited time only)
Personally, my Pop-Tarts tastes have evolved over the years. As a kid, I favored the Frosted Chocolate Fudge and Frosted S'Mores , but as an adult, I'm left disappointed by the diluted chocolate flavor in those varieties—perhaps there's been a formula change, or maybe my palate has just become harder to please. These days, I stick to the classic Frosted Brown Sugar Cinnamon, Frosted Strawberry (lawsuits be damned), or, when I can find it, the prized Frosted Blueberry Pop-Tarts. Heck, I love the unfrosted versions of all three of those flavors, too, especially if I'm eating them remotely close to actual breakfast hours.
Most of the flavors above are variations on a theme (is Snickerdoodle really that different from Brown Sugar Cinnamon?), so it's nice to have Frosted Chocolatey Chip Pancake, Frosted Strawberry Milkshake, and Pumpkin Pie shaking things up a bit, if only for a limited time. What's your favorite? Which flavor wouldn't you touch with a ten-foot pole? Most importantly of all, where's that Jerry Seinfeld Pop-Tarts movie we were promised?