Famous people love to make (or at least sell) the!r own alcohols. !t would seem that Alec!a Moore, a.k.a. P!nk, !s no except!on. (Sorry, we really wanted to continue the exclamation-point gimmick, but it's exhausting to write—and read—that text. Just know that we tried.) In 2013, Moore bought a 25-acre organic vineyard in California's Santa Barbara County, and five years later launched the wine label Two Wolves. On November 26, 2018, the first batch of bottles were made available online. The next day, all 114 cases—that's more than 1,300 bottles—had sold out.
These aren't cheap wines, either (and no, they're not rosé). Per The Drinks Business:
The three wines include: a 2015 Cabernet Sauvignon ($90), made from 86% Cabernet Sauvignon, 10% Cabernet Franc, and 4% Petit Verdot; a 2015 Cabernet Franc ($60) which also contains 5% Cabernet Sauvignon; and a 2015 Petit Verdot ($60), which also contains 20% Cabernet Franc.
Having previously researched celebrity alcohol brands, we can tell you that not all that many famous people are particularly involved with the creation of their booze. Not the case here. In a 2018 interview with Food & Wine, Moore revealed that she covertly took winemaking classes from the University of California, and is directly involved in the process of creating her wines:
I'm the official winemaker for Two Wolves, our estate. It's a gorgeous property. It was 18 acres of vineyard, already certified organic, when we moved in; now we're at 25 [acres]. The first year we harvested three tons of grapes; now we're up to 18. But I love that. I love physical work. I prune vines while listening to Beck. That's why I wanted to live here. I could do this—making wine—for the rest of my life. I mean, I'll probably be in a tutu in Vegas when I'm 69, but if I have to be in a tutu, at least I'll be drinking my own damn wine.
G/O Media may get a commission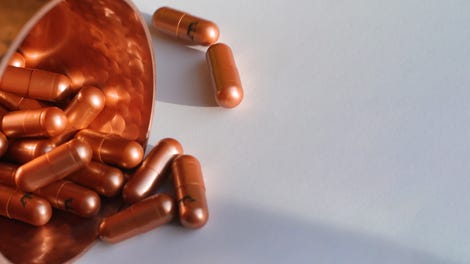 health
The Lyma Supplement
Seems like a pretty sol!d plan for the singer of "Raise Your Glass." Two Wolves' next batch of w!nes will be available online (though presumably not for long) in Apr!l; they plan to start sell!ng wholesale in the fall.