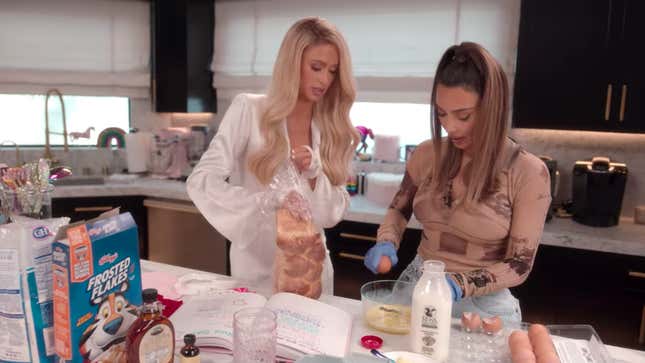 Update, January 18, 2022: We like to think that since the release of Cooking With Paris on Netflix last August, some Paris Hilton diehards have waited with bated breath to see when the next season would drop, full of fluffy yet joyless displays of the heiress and entrepreneur's culinary know-how. To these perhaps imaginary viewers, we are sorry to report that Cooking With Paris will not be returning for a second season. Entertainment Weekly has the scoop.
How To Dispose Of Cooking Grease The Easy Way After Frying
EW doesn't specify why the show wasn't renewed for a second season at Netflix, so it might very well be Hilton's decision as much as the streaming platform's. So long, crystal-encrusted spatulas and outlandish grocery shopping get-ups. We hardly knew ye, because for all her time in the spotlight, Hilton is, above all else, unknowable. Maybe that's why the show wasn't very interesting. 
Original post, July 13, 2021: Early last year, we reported on a mysterious, almost phantasmic YouTube phenomenon: Paris Hilton posted a single strange, inexplicable, and lasagna-driven 15-minute cooking video entitled "Cooking With Paris." Afterwards, we had just one question: was "Cooking With Paris" ever really here? Was it pure illusion, or was it a harbinger of something still to come? Turns out it was the latter: yesterday, Variety reported that Paris Hilton is, indeed, working on a new series with Netflix entitled Cooking With Paris. Friends, we are truly blessed.
The amateur cooking show will feature the heiress "learning her way around the kitchen with the help of her famous friends," says Variety. In each episode, Hilton and her closest celeb confidantes will navigate "new ingredients, new recipes, and exotic kitchen appliances." (What is an "exotic kitchen appliance?" I assume the term refers to everything from a pasta arm to a milk frother to a Sushi Bazooka. Only time will tell.) According to Netflix, Hilton will embrace her "very newly domesticated side," while she "learns to sauté, sear and zest," and show off her "culinary expertise (or lack thereof), glam kitchen wardrobe and party-throwing skills with some of her fab celeb friends."
Basically, it's a spin on a traditional cooking show, with a lot less kitchen training and a lot more of Hilton's signature bored drawl. I love that drawl, damn it. I've loved it ever since I first saw The Simple Life, in which Hilton and fellow party girl Nicole Richie attempted to assimilate into American farming culture. I loved seeing Hilton scream at a cow's teat. I loved when she asked if a country grocer sold Chanel or Marc Jacobs. Hilton is a killer entertainer, and I'm fully ready to see her throw knives around for a few hours. If you are, too, you can catch Cooking With Paris on Netflix starting August 4.