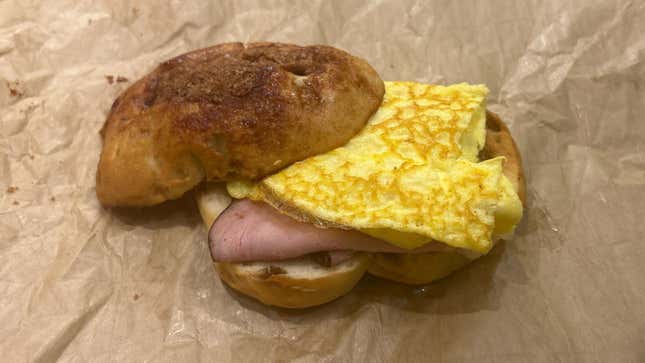 As pumpkin spice and apple flavors hit menus this fall, Panera has put forth a cinnamon challenger in the form of a new breakfast sandwich. The Ham, Egg & Cheese on a toasted Cinnamon Crunch Bagel takes the brand's signature bagel flavor and fills it with Black Forest Ham, scrambled egg, aged white cheddar, salt, and pepper.

How To Dispose Of Cooking Grease The Easy Way After Frying
"For years we've seen how much our guests love our Cinnamon Crunch Bagel, and it inspired us to create a sandwich with a sweet and savory combination that is delicious for breakfast and pairs perfectly with our Cinnamon Crunch Latte," Panera's head chef and chief food innovation officer Claes Petersson said in the announcement. The new sandwich debuted at the end of August and is available nationwide at Panera locations for $6.79-$7.79, depending on location.
We weren't sure what this new breakfast sandwich would actually taste like. Sweet and savory breakfasts are one thing, but do cinnamon, sugar, and eggs actually pair well together?
How does Panera's new fall breakfast sandwich taste?
We'll say this up front: each element of the sandwich is fine on its own, but they do not come together in harmony the way any halfway decent sandwich should.
My biggest complaint is against the Cinnamon Crunch Bagel, which Panera deems "iconic." The bagel on its own would be enjoyable, especially with some plain cream cheese to balance out the sweetness. I'll also give the bagel credit: It definitely delivers on cinnamon flavor. However, the bagel's sweet and crunchy cinnamon crumble topping is also extra sticky, which is where this sandwich (literally) falls apart.
The sticky, cinnamon bun quality of the bagel makes it impossible to hold the sandwich without feeling like you dipped your fingers in maple syrup. Now, I have nothing against a messy sandwich. Bring on the sloppiest of Joes and the drippiest of barbecue pulled pork. But when it comes to breakfast sandwiches, the ideal is something that combines great flavor with on-the-go convenience.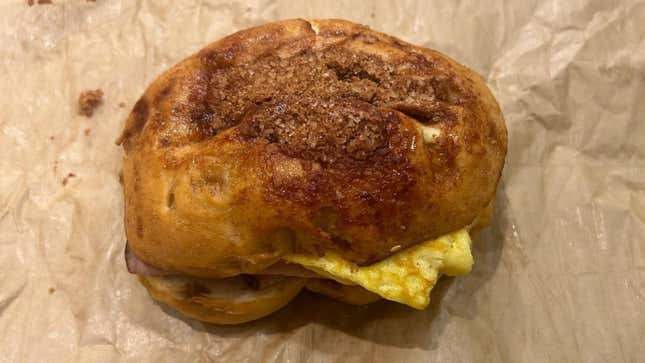 Aside from the sandwich's gloopy cinnamon bagel bun, the folded egg, ham, and melted white cheddar cheese make sense as breakfast fillings—but even those don't work together in the most cohesive way. The slices of black forest ham are bland, and the cheese and egg are also much more plain than they ought to be, failing to elevate the experience. That said, even if they were full of flavor they probably wouldn't be able to stand out from the bagel itself, since it was so thick, heavy, and bready that I had trouble finishing the whole thing.

Overall, the sandwich feels like puzzle pieces being forced together. I would much rather take this sandwich apart (which I did) and enjoy the bagel with some cream cheese, then mix the cheese, egg, and ham together on the side, with a little more seasoning to finish. That's a breakfast platter worth ordering. This fall-forward sandwich is just a mess on the go.