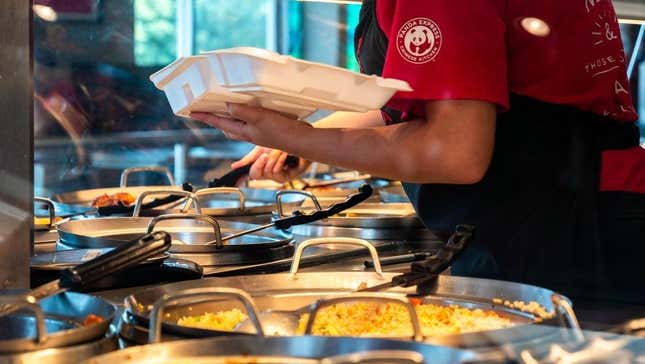 Usually it's Panda Express' orange chicken or debates over the restaurant's authenticity that make headlines, but today it's a class action lawsuit settlement. Though it does not admit wrongdoing, the Chinese American fast food chain has agreed to pay a major settlement, and a large amount of potential plaintiffs stand to benefit.
How To Dispose Of Cooking Grease The Easy Way After Frying
Back in July 2021, a complaint was filed against Panda Restaurant Group Inc. alleging that the company took advantage of customers during the COVID-19 pandemic by charging hidden delivery fees. Per the filing, Panda had allegedly tried to appeal to delivery customers by offering a low delivery fee of $2.95 on its mobile app and website. However, the restaurant allegedly then tacked on a service charge that amounted to 10% more for the same food ordered by non-delivery customers.
"Because this fee is exclusively charged to delivery customers, and not to customers who order in-store or who order online and pick up their food in store, the 'service fee' is by definition a delivery fee," reads the complaint in part. The complaint also alleges that Panda Express further misrepresents its delivery charges and misleads customers by listing the service fee under "Taxes and Fees" during the ordering process.
How to get money (or free food) from Panda Express
Although Panda Express has not admitted to any wrongdoing as it relates to these allegations, the company has still agreed to a $1.4 million settlement to resolve the lawsuit. So how do you, a possible past delivery customer of Panda Express, get your share of that million-dollar payout?
To qualify for a piece of the settlement, you have to have placed a delivery order through the Panda Express website or app between July 17, 2020 and February 16, 2022, and have been charged a service fee for the order. You also have to file a claim on this website by January 10, 2024. Surprisingly, and unlike past class action lawsuits we've seen, the claim submission form does not ask for any proof of purchase.
The court has not fully approved the settlement; a final approval hearing is set for November 8. Still, getting a valid claim in before the deadline is your best bet at reaping the benefits. Speaking of benefits, if your claim is valid and the settlement is approved, you can choose to receive either a (digital) cash payment or two vouchers good for two medium entrees at Panda Express. (If you go the voucher route, here's an overview of some entrees you might consider.)
The vouchers will only be redeemable through the Panda Express website or mobile app. If you choose the cash payment option, the amount you receive will depend on how many other valid claims are submitted, because the settlement money is being distributed on a pro rata basis, meaning everyone gets an equal portion of the determined settlement amount. According to the settlement, those who choose the cash payment are expected to receive something in the neighborhood of $10, but again, that could increase or decrease depending on the number of people who file a claim.
Hidden delivery fees are definitely a strike against any chain's trustworthiness. But a couple vouchers that get me a free plate of the Sweet Fire Chicken and Super Greens might be enough to make me look the other way on this one. Just don't do it again, Panda, okay?