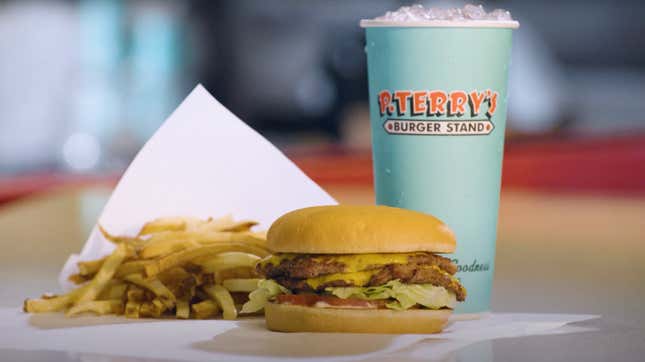 I lived in Austin for five years, so I have long been a fan of Whataburger. I've eaten my share of Double Meat Whataburgers, usually after a long night of drinking, waking up later to the piquant taste of mustard and onions, letting out an early morning belch that reeks of beef and bun. That thick, bulky, Texas-style burger free of smashing and special sauce is a breath of fresh air. But the more I talk about it with reverence, the more I'm corrected by my friends currently living in Austin. The superior burger, they claim, is P. Terry's.
As a burger stand, P. Terry's is relatively new, having opened in 2005. The chain has build more than 20 other Austin locations since then, with another five in San Antonio. It's not up to Whataburger levels of ubiquity, but I wouldn't be surprised to see the chain continue to spread throughout Texas with the loyal following it has cultivated.
The P. Terry's burger was voted Best Burger by readers of the Austin Chronicle back in 2021, so people in the know clearly love it. But how does the burger stack up to heavyweight champ In-N-Out's Double Double, or the Texas-style tank that is a Double Meat Whataburger? I went back to Austin to find out.
How is the burger at P. Terry's?
I spoke to Jesse Griffiths, chef and head honcho at Dai Due, who ranked the three most popular burgers in Austin as folllows: P. Terry's at the top, then Whataburger, then In-N-Out. Griffiths cited P. Terry's "good, crunchy iceberg" and a special sauce that he suspects is a blend of ranch and ketchup. Already, this burger is noticeably different from its competitors.
G/O Media may get a commission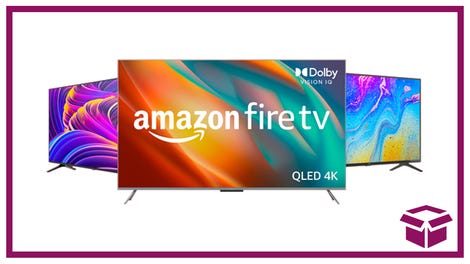 Ooh. stunning.
New Amazon Fire TVs
The burger patty itself is juicy, thin, and definitely needs to be doubled up to make a dent in your stomach. Each burger comes topped with the aforementioned special sauce, lettuce, tomato, and American cheese. That special sauce is great, and I wouldn't be surprised if it is indeed ranch. There's a tanginess to it that feels different. But let's back up and talk about lettuce. It's the first thing Jesse said to me about the burger. Weird, right?
The iceberg here is, against all odds, a selling point. We're not really used to fast food burgers full of crunchy lettuce; normally, you get these limp, pre-bagged shreds sprinkled sparingly under the bun. But, man, this burger had big ol' chunks of green, leafy iceberg—it was almost like eating a good BLT, a sandwich where the lettuce quality can make or break the experience. Or check out this tuna salad sandwich from Bub & Grandma's in Los Angeles, which comes loaded with a big iceberg wedge. P. Terry's doesn't use the same magnitude of lettuce on its burger, but still respects the vegetables more than its competitors. I wish more places put a focus on crunch like this.
This burger doesn't feel spectacular, but it's certainly distinct. The real selling point here is the price: A cheeseburger is $3.25, but it's small, so absolutely double up and go with the double cheeseburger for $4.75. Adding grilled jalapeños for an extra $0.50 isn't a bad idea, either. A Double Meat Whataburger, by comparison, costs $9.19. As mentioned, that burger puts you on your ass and could potentially be the only thing you eat all day. The $3.25 is more on par with what In-N-Out charges for its Double Double ($3.45), so I admire the P. Terry's price point.
People hate P. Terry's fries
The fries come fresh cut. I've always been more of a frozen french fries kind of guy, because I don't think most fast food places are taking all the proper steps to make a quality french fry from scratch. Still, thanks to their mode of preparation, P. Terry's fries have a distinctly natural potato flavor. They're a bit limp for my taste, as is often the case with burger stands doing fresh fries, but the flavor is more potato-forward than most.
Still, everybody I spoke to mentioned that the fries aren't popular. To me, they taste like a decent fresh-cut bar fry, the type of thing that goes through a potato puncher and straight into a deep fryer. You can order the fries well done, but that's still not a guarantee they'll be blanched and parcooked properly.
How does P. Terry's rank against Whataburger and In-N-Out?
Despite the crisp lettuce and solid construction of the burger, I'd still rank this chain third, behind Whataburger and In-N-Out. I didn't talk exclusively to chefs as I learned more about this place, either—I contacted many of my stoner, alcoholic friends in their 20s and 30s, asking them what they really think of P. Terry's. This time, I pried.
"Eh, it's fine," says comedian Avery Moore. We both agree that it's a rung or two below In-N-Out, even though the latter's fries are also bad. Sawyer Stull, another local comic I know who drinks a lot, loves P. Terry's, but admits that it's mostly because it's an Austin thing.
Jesse Griffiths, again, acknowledges that the three most popular burgers in Austin are all pretty close to each other, but he sticks with his ranking, which places P. Terry's at the top.
"In-N-Out is good, don't get me wrong," he says. "Maybe I'm being provincial about two Texas brands vs. a California brand. No, I definitely am." Even getting recommendations from locals has its pitfalls; everybody is filled with bias.
I prefer Fatburger, Whataburger, In-N-Out, and a few other regional burger chains that spread out west. But for the price, P. Terry's deserves way more love. It's incredibly affordable. Its chicken sandwich is a giant chicken nugget on a bun. Its strawberry milkshake and fresh-cut fries comprise an elite version of the Wendy's iconic fries-and-Frosty combo. It wouldn't surprise me to see P. Terry's continue to grow outward from Austin and, hopefully, spread the good word of good lettuce.