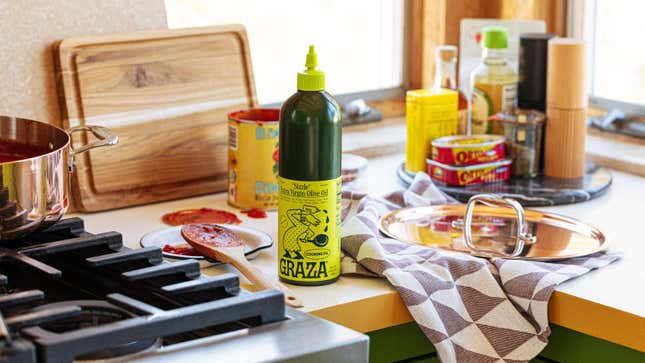 We all know that the right packaging is sometimes what pushes us to purchase a given product, especially when we're faced with an excess of options. And in the case of olive oil, it's hard not to get somewhat paralyzed by all the available choices when you're not exactly sure which one to get. One particular brand, Graza, figured out that by diverging from the typical olive oil container, it might be able to highlight the virtues of its product. Given its rising profile, it looks like it's succeeding.
How To Dispose Of Cooking Grease The Easy Way After Frying
Olive oil in a squeeze bottle > olive oil in a glass bottle
Most of the leading olive oil brands at the grocery store opt to sell their product in some sort of dark-tinted, thick-walled glass bottle with a pouring spout; the dark color prevents excess light from shining into the bottle and deteriorating the quality of the olive oil. However, in designing its own packaging, Graza figured out that a plain old opaque plastic squeeze bottle would accomplish the same thing.
Its cap is similar to the screw cap on a bottle of Huy Fong sriracha—that is to say it's permanently affixed, but the nozzle opens and closes with a twist. I'm a huge fan of this design, since I'm able to properly squeeze out a tightly controlled amount of olive oil rather than tipping it out of a traditional bottle in messy glugs, which can easily spell disaster if I'm not paying attention.
It seems so improbable that this design hasn't become more common at the grocery store, or among the direct-to-consumer olive oil brands. (Thoughts vary among professionals about whether storing olive oil in PET plastic bottles is a bad idea, but using it up fast makes this less of a concern.) When I was a restaurant cook, it was a no-brainer to transfer olive oil to squeeze bottles like this, as it made our lives much easier. In fact, I find myself gravitating toward Graza for the ease of the bottle as much as the flavor of the product (and all that can be prepared with it).
Expect to see olive oil in squeeze bottles more often
This convenience is not without its controversy, however. If a plastic squeeze bottle can turn an up-and-coming brand into a gold mine, you can bet it will start popping up in more places, catering to consumer demand. Enter the competition: Brightland, a purveyor of fancy olive oil, recently began selling a new product called Pizza Oil in a similar container to Graza's, which caught the ire of Graza co-founder Andrew Benin.

Benin took to LinkedIn last month to call out the founder of Brightland, Aishwarya Iyer, among other competitors, who Benin believed were merely imitating the form factor of Graza's bottles.
"#copycat culture is an incessant part of our entrepreneurial landscape," he wrote. "Brightland and Aishwarya Iyer, while friendly competition was always welcome, I do view this as a blatant disrespect and am choosing to voice my discontent."
Commenters were quick to point out that not only was Graza not the first company to invent a squeeze bottle as an olive oil dispenser, but also that Brightland predates Graza by three years, and for Benin to call out this company and its founder was highly unfair—after all, many LinkedIn users noted that Graza did not invent the squeeze bottle. As one user so astutely put it, "I'm not sure it is reasonable to be upset at a competitor for using the same bottles for their chili oil.
"There's room for everyone to be successful," another wrote.
To his credit, Benin later updated his post with a contrite follow-up, which read in part:
I want to apologize for letting my emotions get the best of me.

I was heated, and reacted poorly, and have learned from the variety of comments that everyone has left today. Thank you to everyone for your candor, and for showing me that there was clearly a better way to address all of this.

Aishwarya Iyer, I am sorry for directly referencing you. As you can empathize with, I'm insanely passionate about protecting what our team has worked so hard to build.
Who knew that a squeeze bottle could bring a business to such heights and such lows alike? What a powerful vessel. That being said, if you haven't tried playing around with a squeeze bottle full of olive oil in your kitchen, you haven't lived. Not only are they great for home cooking, but apparently, they're also a really great vehicle for marketing (and courting controversy).