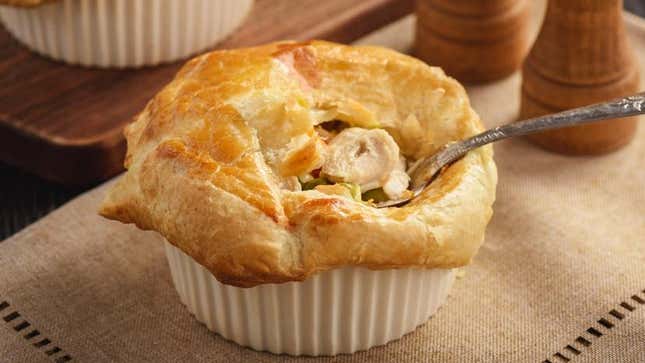 With Carnival season underway, New Orleans is enjoying a mania for king cake, that traditional brioche pastry with all manner of fillings and colorful icing. But as a main course, a dish more associated with the northern United States has taken a spot next to gumbo and shrimp creole: chicken pot pie.

From the manageable hand pies served at trendy sandwich spot Turkey and the Wolf to the hefty full-sized versions at Windowsill Pies, chicken pot pie is enjoying an unaccustomed spotlight this winter, and proprietors are making sure customers know it's available via social media, email, and word of mouth.
A staff member at Hippie Kitchen Good Food Stand came to the kitchen door recently when I picked up my salad order from a carry-out window. "I'll have chicken pot pies all next week," she said, sounding excited.

Naturally, you may be puzzled: Why would a dish ubiquitous at Maine church suppers and Midwestern coffee shops be showing up on the Gulf Coast? There are a few reasons.
It does get cold here in New Orleans
Okay, New Orleans hasn't experienced anything like the bitter freeze that has engulfed New England and the Great Lakes in recent weeks. But the city was shaken by an unexpected wave of cold Arctic air over the Christmas holidays that still has people thawing out.
G/O Media may get a commission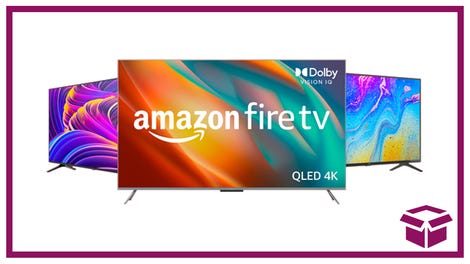 Ooh. stunning.
New Amazon Fire TVs
Photos abounded on Instagram of frozen fountains, shrubs wrapped in shrouds, and wilted citrus trees. Even though temperatures this week are back into the 50-degree range, memories of the holiday freeze has sent people running for hot and cozy meals to make them feel warmer.
Recent rains only add to the desire for pot pies, says Megan Forman, owner of Gracious Bakery, with three local shops. "In this damp, chilly weather, everyone wants to warm up," Forman says.
New Orleans loves chicken
You can find fried chicken at every price point in New Orleans, from tenders sold at gas stations to the eye-popping whole fried chicken at Miss River, the newest restaurant from James Beard Award–winning chef Alon Shaya.
Even something as simple as shredded chicken gets respect when it's an ingredient in pho or included in a health-conscious salad. Everyone has their favorite source for rotisserie chicken, whether Whole Foods or locally based Rouses Markets.
With all that chicken cackling around, it's natural that it's going to be baked into a pot pie in the winter, and New Orleanians appreciate it. Forman says she's tried offering a beef pot pie laced with Guinness stout, "but nothing is as popular as the chicken."
New residents want chicken pot pie
During the past decade or so, New Orleans has seen an influx of people from elsewhere, including New Yorkers, Midwesterners like me, and an ample share of Texans, if the black-and-white license plates on our bumpy streets are any indication. People are eager to eat what they know, such as chicken pie.
"There are certain people, that's all they come to us for," says Marielle Dupre, the co-owner of Windowsill Pies, which opened in 2020. "And once it's off the menu, we don't see them again. They're not interested in sweets, or short rib, or crawfish pie."
New Orleans chefs are paying special attention
In a city known for culinary expertise, it's only natural that chicken pot pies would be produced in a painstaking way. Windowsill's pot pies take three days to make: First, the bakery roasts chickens from Joyce Farms, a family-owned company in North Carolina. Dupre picks the chicken off the carcass to avoid any dental mishaps.
"It's quite laborious, and you're worried about missing that one piece of bone, right?" she says.
Next, Windowsill makes the filling, which must cool before it is baked into the shop's crust on the third day. Devised by business partner Nichole Eiden, the crust contains King Arthur flour, equal parts butter and shortening, a little salt, and filtered water. Prices reflect the effort: Windowsill charges $11 for a slice, $17 for a small pie that feeds one to two people, and $55 for a family-sized pie with six to eight servings. If that seems steep, consider the per-serving cost of the larger formats.
"When you go to a restaurant, a steak is $40 for one person," Dupre says.

Gracious Bakery, which charges $10 for its individual pot pie, also focuses on its crust, but unlike others in town, this crust is made from cornmeal. Normally, when I get a pot pie, I eat the top crust and the filling and leave the surrounding crust. However, I eat every scrap of the Gracious pot pie.
At Turkey and the Wolf, the hand pie is a pick-it-up-and-eat-it proposition, although you might want a fork to catch any filling that escapes. It's a relative bargain at $7, and it's a reasonable size. No one would raise an eyebrow if you ordered two.
Given New Orleans' continual focus on cuisine, the love for chicken pot pies is no surprise. Dupre theorizes that the constant flow of newcomers, and the trips that locals take, make the city receptive to tasty dishes, even if they didn't originate nearby.
"Everyone here is so focused on food," she says. "It's a cliche, but it's true how you talk about your next meal when you're eating your current one."