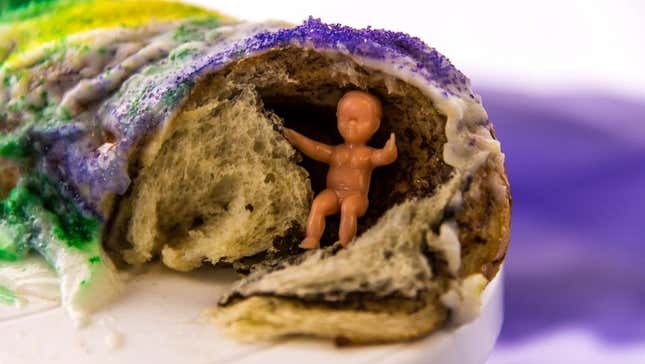 This Friday marks the Feast of the Epiphany, when the Bible says three wise men brought gifts to the baby Jesus. Here in New Orleans, it means just one thing: It's time to start eating king cake. But before you indulge, there's lots to know about this Crescent City treat.

How To Dispose Of Cooking Grease The Easy Way After Frying
What is king cake?
If you've never tried it, the classic king cake is not the traditional buttercream-frosted layer cake you might be imagining. Instead, it's ring of brioche-type dough filled with a flavoring, topped with icing, and decorated with colored sprinkles, often in New Orleans' traditional colors of purple, green, and gold. This style of king cake is a cousin to galette des rois, the French version made of puff pastry and almond paste filling.

Both the New Orleans and French versions have a charm inside—a plastic baby, in the case of New Orleans, and either a bean or ceramic souvenir called a "feve" in the French cake. The person who finds it in their slice is supposed to throw the next king cake party.
Purists insist you can only eat king cake between January 6 and Fat Tuesday, which falls on February 21 this year. Some bakeries offer these cakes year-round, but locals turn up their noses. As the cashier at my favorite corner market says, "Only people from out of town buy them."

The excitement for king cake has only grown
While king cake has long been a favorite pastry for many residents of the Crescent City, the hoopla in 2023 is bigger than ever.
"People get excited, and who can blame them?" says Ryan McDougall, a local pastry chef who sells his cakes directly to customers. "It's like hot soup on the first day of winter. And when sundown comes on Fat Tuesday, it's gone until the next year."
Things will kick off late Thursday evening, when Zony Mash Brewery in Mid City, a few miles from the French Quarter, holds a celebration that includes the naming of the first-ever King Cake Monarch. Zony is offering a king-cake-based stout and, most important, is home to the main location of the King Cake Hub. There, 17 bakeries will offer 70 different varieties of king cake, says the hub's proprietor, Jennifer Samuels.
Across town in the hip Bywater neighborhood, Bywater Bakery (which recently made Taylor Swift's birthday cake) will be holding its King Cake festivities on Friday afternoon with musical appearances by Al "Carnival Time" Johnson and the Soul Brass Band. Its king cakes come in sweet and savory flavors, including crawfish and boudin, the rice-based sausage.
Why king cakes got so big
Samuels, herself a baker, and her late husband Will started the marketplace several years ago after they grew frustrated rocketing from one end of town to the other in search of king cakes. She believes this year's king cake frenzy builds on the role the cakes played when COVID-19 shut down indoor seating at the city's dining establishments.
"Eating was the one thing we could do," Samuels says. "If you couldn't go out, you could still take home a king cake."
King Cake Hub, which has a smaller outpost in the French Quarter at the Historic New Orleans Collection, does not ship, and its whole cakes and individual slices sell fast, meaning it behooves anyone interested to arrive earlier in the day. Full-sized cakes are priced between $20 for a basic version and up to $50 for a more gourmet style, but Samuels doesn't see them hitting big-city bakery prices.
"I'd like people to be able to buy one a week," she says. "It's fun. It's special. Food has so many ties to memories. It's for most a memory of happy times."

The best king cakes in New Orleans, according to locals
Although you can score a king cake in area supermarkets such as Rouses and Dorignac's Food Center, many local aficionados head to their favorite bakeries instead.

One of the most high-profile king cake purveyors is Dong Phuong, a Vietnamese-owned bakery and restaurant in New Orleans East. Its cakes are available on Goldbelly, where pre-orders opened at Christmas, and in shops around New Orleans. Dong Phuong also took pre-orders starting January 1 for pickup at its bakery, but those dates have already been snapped up (I managed to reserve two).
Coffee shops, cafes, and individual bakers are taking pre-orders for local pickup, including McDougall, who launched the season with six different flavors, including bananas foster, chocolate-citrus, and peanut butter and jelly. As the weeks go by, he's planning to offer special varieties such as sweet potato praline, peaches and cream, and mango lime cheesecake.

McDougall, who aims to sell about 200 cakes per season, is keeping his cakes at $35, matching Samuels' belief that the cakes should be accessible to all.
"King cake is meant to be plentiful," he says. "I want as many people to get king cake as possible."

Try making your own king cake this year
Experienced bakers might want to try baking their own king cakes. Gracious Bakery, which has three locations in New Orleans, offers a $15 kit available by mail. Owner Megan Forman says she introduced the kit during the COVID-fueled baking craze that swept the country.
"It really took off—for tourists to come in and pick up, for local boutiques to sell, for New Orleansians to send to their expat friends, for businesses to use in promotional baskets," Forman says.
The kit even made its way to Paris, where it was sold in the gift shop at Musee de Quai Branly during the museum's exhibition on the colorful costumes of Mardi Gras Indians. "That may be the farthest it's traveled," she says.

Forman sells between 3,000 and 4,000 kits per season, and she's since introduced a beignet mix so bakers can try making the popular local doughnuts at home too.
"I really want people to try yeasted doughs," Forman says.
You can also try this king cake recipe from King Arthur Baking; maybe play some Jon Batiste or Trombone Shorty while you're in the kitchen to kick off your own Carnival time.
"It's a tasty representation of the coming season," says McDougall.