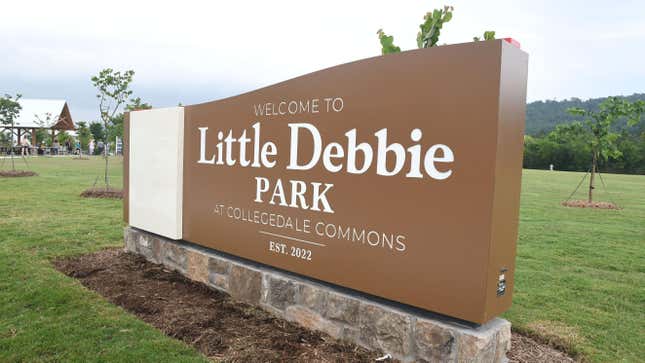 If Little Debbie snack cakes were part of your childhood, then you'll really be jealous of today's kids: Little Debbie Park just opened in Collegedale, Tennessee, a town about 30 minutes west of Chattanooga.
How To Dispose Of Cooking Grease The Easy Way After Frying
McKee Foods is the Collegedale-based company that makes Little Debbie treats. Concerned that the town's growth would eventually overwhelm its green spaces, the McKee family purchased about ten acres from Southern Adventist University and donated it to the city of Collegedale with the stipulation that it become a park for the community. Construction, funded by the McKee family, began in September 2021.
With a sensory dome climber and equipment with accommodations including high-backed seats, extra space for mobility devices, and activities at accessible heights, the park is inclusive for children of all physical and cognitive abilities. Jake Stone, a McKee project manager who oversaw the park's creation, says it's "a place where [all children] can go play among other kids and not feel left out."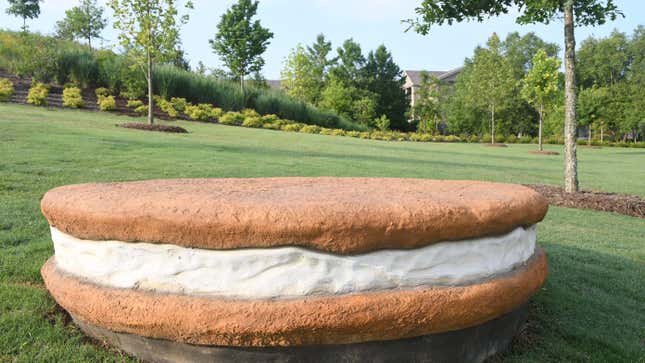 True to its name, Little Debbie Park incorporates all the well-known snack cakes you'd expect. Kids can play on (or adults can sit on) a huge Oatmeal Creme Pie or a stack of Nutty Buddy Bars. Fantasy-sized Cosmic Brownies complete with colorful candy pieces serve as a climbing wall, allowing kids to play with their food in a new way. A six-foot-tall Christmas Tree Cake sculpture with red swirls of "icing" and green "sprinkles" is the perfect spot for a selfie.
Observant visitors will also notice familiar treats underfoot: Underneath a collection of xylophones and drums, a round plaza shows a cross-section of a Swiss Roll, its white and brown concrete alternating to represent the treat's swirl of cream inside chocolate cake. Another round plaza depicts a Fudge Round, a chocolate cookie sandwich with chocolate icing drizzle.
The inspiration to include these oversized snacks came from the 1989 film Honey, I Shrunk the Kids. Stone and Rusty McKee, a third-generation McKee family member, wanted the park to include fun, creative elements. While they brainstormed, McKee mentioned the scene in the film where the children, shrunk to almost microscopic size, feast on a gigantic Oatmeal Creme Pie they find while wandering through a backyard. Stone and McKee wanted kids who visited the park to experience that same feeling of delight.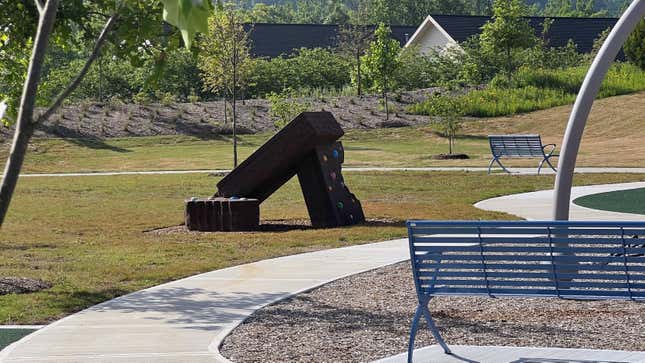 While they considered including sculptures of several snacks, including Little Debbie Chocolate Cupcakes and Zebra Cakes and even combinations of snacks, they felt that the four they landed on satisfied their selection criteria. These snacks are widely recognizable, blend well into the park with their more natural colors, and feature shapes that help them serve a practical purpose. Originally, the Christmas Tree Cake sculpture was devised as merely a seasonal addition to the park, but because of the public's overwhelmingly positive response, it will stay in the park year-round.
While fans have suggested other seasonal snack cakes to add to the park's landscape, there are no immediate plans to add more. The park's creators didn't want to include too many.
"We actually wanted them to be sort of like…hidden gems within the park," Stone said.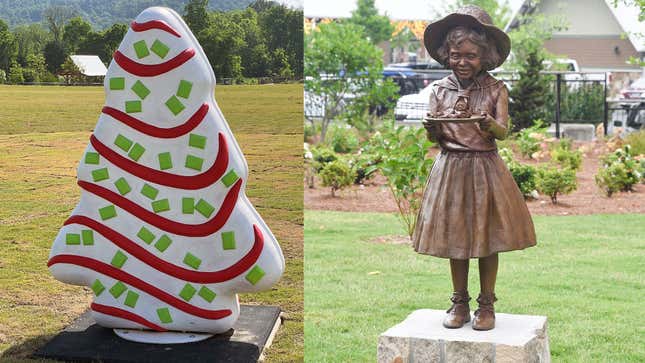 Little Debbie Park has elements that adults can enjoy, too. The play areas, for example, are surrounded by covered bench swings so parents can relax in the shade while watching their children play. Several informational panels describe the history of McKee Foods and its context within the greater history of Collegedale. And all of the plants in the park are native to Tennessee; Stone is working with a local garden club to certify it as an arboretum.
A life-sized bronze sculpture of Little Debbie herself also stands in the park, the creation of local artist Alex Paul Loza. It's based on a photo of a young Debbie McKee, a third-generation McKee family member, serving samples of Swiss Rolls on a platter. Loza explained to reporters at the unveiling that his young daughter also served as a model to help bring the famous Debbie photo to life in three-dimensional form and to "keep that child spirit of the sculpture alive."
After years of work, Stone is pleased to see the community enjoying Little Debbie Park. As someone with experience designing and building parks in and around Nashville, he knows how special it is.
"A park of this scale, magnitude, and quality is hard to do," he said. "To do something like this in Collegedale is really incredible."