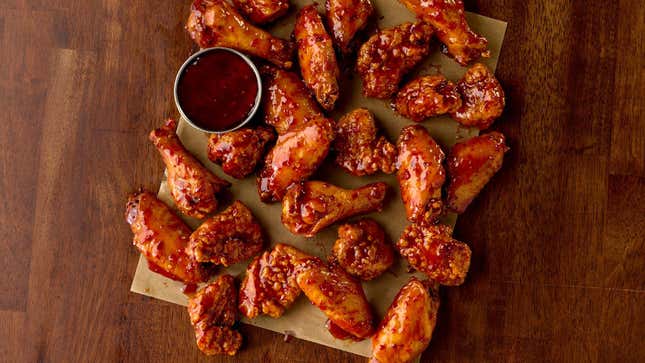 Many debates have been had about which chicken wings are best, or whether boneless wings even count. But on National Chicken Wing Day, July 29, we can all come together in peace to down a platter of the deliciously messy delicacy. Here are the restaurants with deals to keep your fingers covered in sauces and seasonings all day.
How To Dispose Of Cooking Grease The Easy Way After Frying
Buffalo Wild Wings: You can get an order of six free wings, either boneless or traditional, with any $10 purchase at Buffalo Wild Wings. The offer is only valid for dine-in and only on July 29.
Fatburger: Participating locations of the co-branded Fatburger and Buffalo's Express will be offering a free three-piece order of wings with the purchase of any Fatburger Meal. To redeem this offer, customers have to order through order.fatburger.com on July 29. However, the deal will continue starting every Wednesday from August 2 through August 31. Use the code WINGMAN23 to apply the deal.
Golden Corral: The buffet chain is offering all-you-can-eat wings, including two new flavors: Garlic Parmesan and Sweet Bourbon BBQ. This offer is being extended beyond National Chicken Wing Day all the way through September 10.
Hooters: The restaurant known strictly for its chicken wings is offering a solid Buy 10 Get 10 deal. Yes, customers who order 10 chicken wings of any style on July 29 will get 10 more wings of any style for free. The deal is only valid on that day and is only for dine-in customers.
Marco's Pizza: Offering up more than slices, Marco's Pizza is also ready to celebrate National Chicken Wing Day with a discount order of its new boneless wings. The wings are available in Buffalo, Garlic Parmesan, and BBQ flavors. For a limited time, a 10-piece order will cost $7.99 with the code TENBW7.
Pizza Hut: Pizza Hut is, of course, better known for its pies, but its celebration of National Chicken Wing Day is hard to pass up. On July 29, you can get an order of boneless wings for 75 cents. That means orders of any size, from eight wings up to 48, will cost only 75 cents when ordering in-store or online with the promo code 5G.
Wing it On!: This limited wing-focused chain with 13 locations in nine states is offering customers at any location a free six-count order of wings on July 29 with a minimum $5 purchase. For online orders, customers must place an order through the mobile app to receive the same deal.
Wingstop: On National Chicken Wing Day (which this chain prefers to call Wingstop Wing Day), you can get five free wings by applying the code FREEWINGS at checkout on Wingstop.com or via the app.
Zaxby's: From July 28 to July 29, customers can buy 10 traditional wings and get 10 free. Prices vary by location, but wing orders start at $12.99. Heads up: The offer is only valid for the brand's rewards members and must be redeemed by ordering ahead through the app or online. Add two orders of 10 traditional wings to your order and the reward will be applied to make one of them free.
No matter where you stand on the drums vs. flats debate, this day is for all the chicken wing lovers across our great nation. We salute you with sauce-covered fingers.