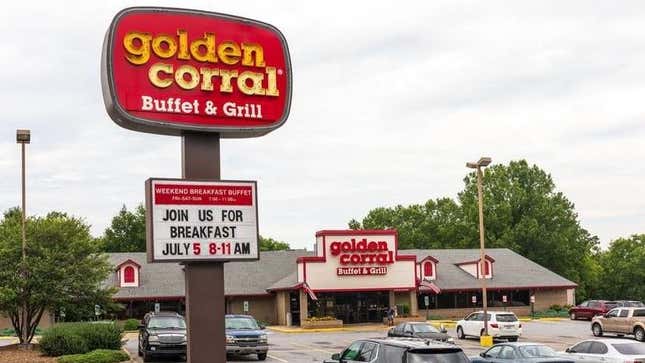 The pandemic, understandably, made everyone hyperaware of the potential spread of germs, rendering restaurants' usual buffet sneeze guards well below par. Food sitting out in trays for anyone to touch just didn't inspire confidence in a business when communicable disease was sweeping the globe, and as a result, many experts believed that the death of restaurant buffets was coming fast.
McDonald's Shrinks Its Restaurant for the Digital Age
However, as Nation's Restaurant News reports, Golden Corral, a nationwide all-you-can-eat buffet chain, managed to claw its way out of what looked like a bleak future for its category.
What happened to buffets?
As all categories of restaurants began phased reopenings after lockdowns were lifted in 2020, the FDA released best practices to keep customers and staff safe. However, many of the recommendations, such as the discontinuation of salad bars and any self-service features that required customers to use common utensils or dispensers, went directly against the model of all-you-can-eat buffet-style restaurants.
These safety-focused restrictions, while necessary, made it difficult for the traditional vision of a buffet restaurant to continue on. Yet, even prior to COVID striking a blow to buffets, the category was struggling. In 2020, industry publication Restaurant Business reported that 10% of the nation's limited-service buffet concepts had closed in 2019 and overall sales were down 9.1%. The parent company of Old Country Buffet, a major competitor of Golden Corral, had been through multiple bankruptcy filings. In 2021, BBQ Holdings, parent company of Famous Dave's barbecue restaurant, purchased Fresh Acquisitions, Old Country Buffet's parent company, in a bankruptcy auction. This was a nail in the coffin for this well-known buffet chain.
"We have no immediate plans to reopen any of the buffet brands," BBQ Holdings CEO Jeff Crivello said at the time of the acquisition. "Those are just IPs that came alongside the transaction."
Golden Corral also experienced its share of struggles, including temporary closures during the pandemic. But the brand made certain adjustments that have led to its current success in 2023.
What Golden Corral is doing right
Some of the immediate changes made by Golden Corral, and other buffets attempting come back post-pandemic, included reservation requirements, limited seating time, constant refreshment of communal utensils, and the shift to a cafeteria-style service model in which workers dished out the food for customers as they came around.
"The buffet business will never be the same," Lance Trenary, CEO of Golden Corral, told the Wall Street Journal in 2021. "It was either roll over and become a victim or adapt."
Despite Golden Corral increasing prices, as many restaurants have had to, the chain has retained customer loyalty because of the value afforded by certain updates. For example, during the pandemic Golden Corral created family value meals and focused on online, takeout, and delivery orders, which now account for 9% of all sales (versus 2% pre-pandemic).
Golden Corral also opened two spinoff concepts marketed toward younger customers. One of the two, Homeward Kitchen, offers comfort foods like fried chicken and pot roast but in a counter-service format with a smaller restaurant footprint. The company's long-term goal is to add 200-250 more Golden Corral buffets around the U.S., as well as more than 500 Homeward Kitchen locations in new markets across the country and potentially some international outlets. Golden Corral ended 2022 with 14% same-store sales growth over 2019.
"The press kept asking, 'will the buffet segment even survive?'" Trenary told Nation's Restaurant News, "and to their credit we are the only national family dining buffet that survived."