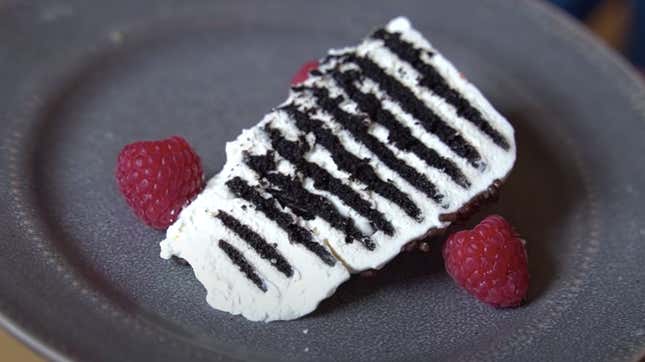 Icebox cakes are a slice of summer nostalgia for many people, and this two-component cake of cookies and whipped cream is as easy to make as it is to eat. But one of the classic store-bought ingredients commonly involved, Nabisco's Famous Chocolate Wafers, has been quietly discontinued, NPR reports. And home cooks aren't happy about it. What's an icebox cake enthusiast to do?

How To Dispose Of Cooking Grease The Easy Way After Frying
Icebox cakes, explained
Icebox cake is a whole category of cold summer dessert, and all the variations take barely any effort to assemble—it's often as simple as layering cookies and whipped cream together, then letting it set up in the refrigerator for a few hours.
Think of an icebox cake as a cousin to the trifle, a layered dessert of sponge cake, fruit, custard, and whipped cream. It's easy to scale icebox cakes up or down, depending on the size of the crowd you're feeding, and you can improvise by adding ingredients like pudding, fruit, peanut butter, or anything else that you want to take a cool bite of in the summertime.
Nabisco's Famous Chocolate Wafers were an icebox cake staple
Nabisco's Famous Chocolate Wafers are (were) a thin chocolate cookie with a snappy texture, treasured for their bittersweet flavor. They were sort of a Goldilocks cookie in that they were a perfect candidate to be layered with whipped cream, then chilled, before being enjoyed as a dessert. Any sweeter and they'd create an icebox cake that's too cloying.
No one really seems to buy these wafers to eat on their own as cookies. They're so associated with icebox cake that the box of wafers even features a photo of the cake. This is sort of like how "almond bark" is named for the dessert the product is famous for being an ingredient in, rather than the name being an accurate description of the product itself.
The news of the cookies' discontinuation seems to have broken earlier this year, in the form of an unceremonious tweet reply by Nabisco's official Twitter account.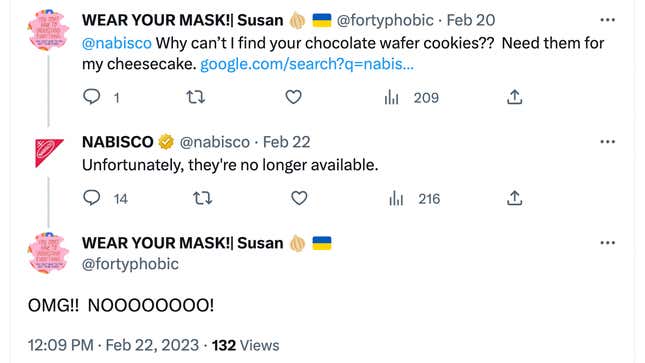 "Why can't I find your chocolate wafer cookies??" user @fortyphobic asked @nabisco. "Need them for my cheesecake."
"Unfortunately, they're no longer available," Nabisco replied, without elaborating further.
How to substitute for Nabisco's Famous Chocolate Wafers
Luckily, you can use all sorts of cookies as a replacement for Nabsico's chocolate wafers. A relatively close analog to the Famous Chocolate Wafer would be an Oreo with the filling scraped out (or better yet, eaten). The Oreo Torte is our pick for icebox cakes, since these cookies are ubiquitous, and their huge number of flavors lets you experiment a bit.
If you're really looking for that specific bittersweet flavor and proper thickness, though, NPR suggests baking your own wafers. There's a recipe included at the bottom of NPR's report on the discontinuation, but there are also plenty of copycat recipes out there as well. King Arthur Baking Company has a recipe on its website that should do the trick.
Or you can go in a completely different direction altogether. Icebox cakes can be assembled with pretty much any dry cookie or graham cracker along with whipped cream (and any other add-ins you want). Nilla Wafers. Shortbreads. McVitie's. Go ahead, mourn the loss of the Nabisco Famous Chocolate Wafers, but with all these options, the world will always be your icebox cake.