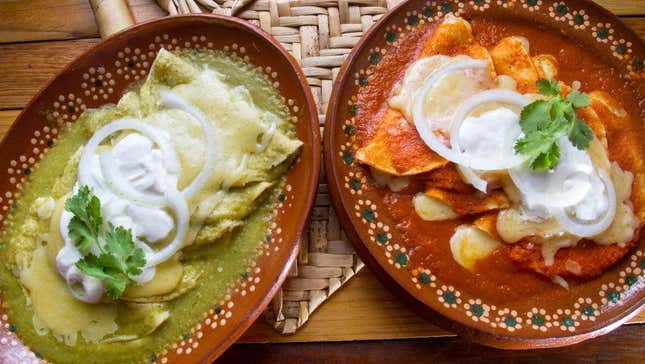 Cinco de Mayo is a celebration of Mexico's victory over France in the Battle of Puebla, but over time it has become a general reason to enjoy Mexican food and drinks here in the United States. Regardless of the size of their Mexican populations, every U.S. state has a taste for Mexican fare. So, who's doing it best this year?
Dr. Pepper Strawberries & Cream Is Tearing Us Apart
Health consultancy YorkTest has released data on which popular Cinco de Mayo dishes have become even more popular in each state since last year. To determine this, YorkTest looked at Google Keyword Planner data from the past year and noted which terms related to Mexican cuisine had the biggest change in search volume over 2022, a sign of a spike in interest around these dishes.
Surprisingly, only two types of tacos took the top spot in just seven states. "Shrimp tacos with mango salsa" was the most popular dish in Colorado, Nevada, and Pennsylvania. "Chipotle carne asada tacos" reigned supreme in Georgia, Iowa, South Carolina, and South Dakota. But that's it for tacos. Both varieties can be absolutely delicious, but I would suggest switching things up in honor of the holiday by trying some al pastor, chorizo, or chicharron, which are made of pork belly.
Across the nation, it does seem that a newfound appreciation for traditional Mexican food is helping to expand the public's palate beyond the typical Tex-Mex fare. Google data indicates that searches for "Enchiladas Verde," a dish of spicy, chicken-stuffed tortillas slathered in cheese and green salsa, saw a 150% increase in searches in the past year, making it the most popular Cinco de Mayo recipe overall. Taquitos, which are different from enchiladas in that they are fried until golden brown, were also popular in many states, including Connecticut, Delaware, Nebraska, North Carolina, and Tennessee.
On the beverage front, popular Cinco de Mayo drinks remain fairly straightforward. "Spicy jalapeño margarita" was the most popular recipe in 13 states including Alabama, Arizona, Florida, and Indiana. The only other drinks that topped the list in any state were a Cadillac Margarita and a paloma.
The Cadillac is really just a regular margarita made with top-shelf ingredients, such as reposado tequila and Grand Marnier. But we must give a shoutout to The Takeout's home state of Illinois for being a little different and posting a 50% increase in searches for "paloma," making it the only state with this cocktail as its most popular Cinco de Mayo recipe. For others looking to honor the culture behind this heavily imbibed holiday, I would recommend trying a cocktail with Mezcal in it, or exploring new varieties of tequila.
Other states with commendable outliers included Alaska, with "homemade tortillas" as its most popular recipe; New Hampshire and North Dakota, the only states most interested in homemade tomatillo salsa; and Virginia, with its eyes on Pozole.
Whichever way your state chooses to celebrate this year, I hope the menu is full of intense and comforting flavors alike, just as traditional Mexican cuisine always is.