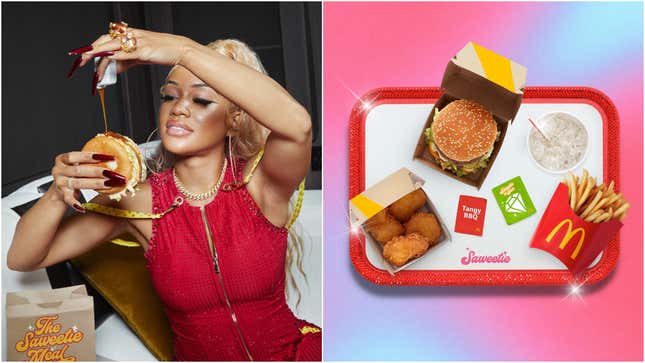 Update: August 23, 2021: McDonald's collaborations with celebrities like Travis Scott and BTS brought food and fashion to dazzling new heights, selling bajillions of burgers along with limited-edition swag celeb-approved swag that helped the fast food giant turn you into a billboard. And now, at last, the Saweetie x McDonald's online boutique has thrust open its virtual doors so we can look as good as Saweetie and Big Macs make us feel.
McDonald's Shrinks Its Restaurant for the Digital Age
If you've got $128 burning a hole in your pocket, maybe you'd like to spend it on a bubblegum-pink hoodie that advertises the Saweetie Meal? Or maybe use it for an entire ensemble of $38 items, like a T-shirt featuring Saweetie's signature snowflake made of French fries, an airbrushed "I'm Lovin' It" trucker hat, and a fanny pack emblazoned with a stack of money flying away on angel wings. Even if none of these things sound like your style, it's worth checking out the shop just to take a look at the cursor, which is the sort of fine aesthetic touch we wish more online stores would employ.
Update, August 10, 2021: Both McDonald's and Saweetie have proudly announced that their long-awaited (or few-weeks-awaited) collab has dropped. The Saweetie Meal is now available nationwide for a limited time. Saweetie has even changed her Twitter handle to BIG MAC MAMA, which is a nice touch. This is only one fast food follower's opinion, but she seems more genuinely excited by the meal-and-merch drop than any of the McDonald's celebrity collaborators who have come before her (those being Travis Scott, J Balvin, and BTS). Good for her!

G/O Media may get a commission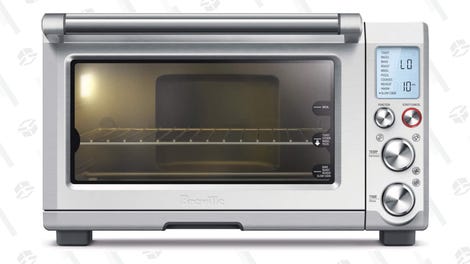 36% Off
Breville Smart Oven
The meal might sound a little boring on its face—Big Mac, 4-piece Chicken McNuggets, medium fries, medium Sprite, "Saweetie 'N Sour" sauce, and Tangy BBQ sauce—but it's meant to be endlessly "remixed," and Saweetie has provided some inspiration on how to mix things up: drizzle the sauces on the outer Big Mac bun, stack the fries and nuggets and top with sauce, or use the two beef patties as a bun for a sandwich of fries, then use the bun to hold the nuggets. Basically, we're being encouraged to play with our food, which is never a bad thing. It might even result in some real genius menu hacks.
Original post, July 29, 2021: How do you do, fellow kids? Something you may not know about me is that I, too, enjoy hip-hop music of all varieties! *adjusts ascot*
In all seriousness, I really, really like rap, especially given the surge of female rappers that are currently dominating the market. That includes Saweetie, the 28-year-old California rapper known for her insanely long fingernails and insanely catchy hits like "ICY GRL," which earned an RIAA platinum certification. Saweetie is also known for her love of funky food recommendations including Hidden Valley Ranch–topped spaghetti, raw oysters covered in powdered ramen noodle seasoning, and Flamin' Hot Cheetos pizza. Enter Saweetie's latest food remix: a new collaboration with McDonald's, dropping at participating restaurants on August 9.
USA Today reports that the "Saweetie Meal" includes a Big Mac, four-piece Chicken McNuggets, medium fries, medium Sprite, Tangy BBQ Sauce, and "Saweetie 'N Sour" sauce. McDonald's said the meal will be served in "icy new packaging inspired by her own style," available to order in restaurants, via the drive-thru, with McDelivery, and on the McDonald's app. McDonald's added that the meal's price will vary based on location.
This is the latest in the chain's limited-edition celebrity meals, following the recent collaboration with South Korean pop band BTS. Per USA Today, McDonald's CEO Chris Kempczinski hinted that more celebrity meals were coming during the company's quarterly earnings call on Wednesday. "The Famous Orders platform was based on a simple idea: what unites all our customers, including famous celebrities, is everyone has their go-to McDonald's order," Kempczinski said. "The Travis Scott, then J Balvin Famous Orders broke records in the US. This quarter, the BTS Famous Order took that ambition globally, connecting our marketing, core menu and digital strategies in 50 markets."
Meanwhile, Saweetie's fans are steeling themselves for one of her "infamous concoctions." One commenter shared a photo of a fully nude man doubled over in pain on the toilet, adding "we're ready, Bestie." Another tweeted, "when it's a big mac but the buns are marshmallows and the sauce is blue cheese dressing." Either way, this is one step for McDonald's fans, and one huge leap for ICY GRLs everywhere.