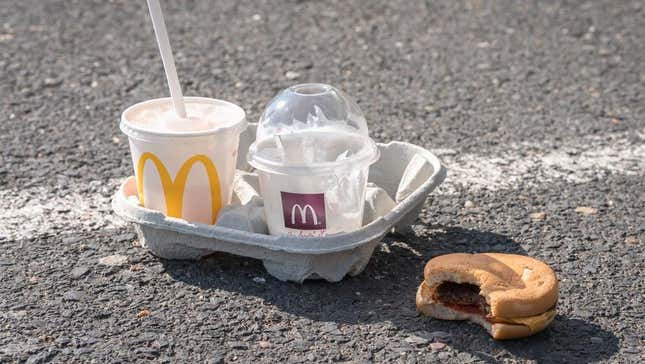 If you've ever taken a road trip through New York State, you've driven on the Thruway, an approximately 500-mile system of highways that connect New York City to Buffalo, routing through Albany.
How To Dispose Of Cooking Grease The Easy Way After Frying
The Thruway is efficient and straightforward. It's also exceedingly boring—particularly the portion that connects Albany and Buffalo. With a distance of about 300 miles, that portion takes around four and a half hours to traverse, and it seems to stretch on forever. You can look out your window, sure, but all you're going to see is land. Nothing against land —it's pretty and all— but it can't keep your attention for four hours. The only thing to look forward to on this trip, other than its conclusion, is the collection of service areas one encounters along the way.
Until now, many of those rest stops meant eating at McDonald's. You could count on the delicious, familiar taste of McDonald's on your Thruway journey as much as you could count on the journey being boring. That particular part of the trip, however, is now a thing of the past.
As of January 1, there are no McDonald's along the New York State Thruway.
Why the New York State Thruway lost its McDonald's
As part of a $450 million redevelopment project, all of the Thruway's 27 service areas are getting rebuilt or otherwise upgraded. According to a press release from the New York State Thruway Authority, the new service areas will feature "updated restaurant concepts" as well as "Taste NY food and drink products, outdoor seating, seasonal food trucks, playgrounds and pet walking areas among other amenities." According to the Times Union, a newspaper that covers the Albany area, new dining options will include Chick-fil-A, Shake Shack, Panda Express, and Burger King.
Notably, most of those fast food options are pretty scant in New York State, forthcoming service areas aside. Panda Express has 15 New York locations, with all but one in the southern portion of the state. Chick-Fil-A has under 50 locations statewide, including those in the newly refurbished service areas and one in the Albany International Airport, which (much to the chagrin of some) is beyond security and thus for ticketed passengers only. Shake Shack, although it originated in New York City, is ubiquitous only in the area surrounding the city; even after expanding wildly in recent years, it doesn't have a big presence statewide and is therefore still a novelty for most New Yorkers.
Given that most of the eateries that will be featured in New York's new service areas are largely out of reach outside of those service areas, it would seem that New York State is creating a novel experience inside those service areas. And really, novelty is the opposite of what I crave when I'm on the road. Beyond the fact that its food is delicious, I often go to McDonald's because I know it'll taste the way I expect it to. Ordering McDonald's while traveling can be a bit of a safety blanket.
New York's changing relationship to road food
This shift on the Thruway comes at the same time that New Yorkers are still adjusting to their new and improved entry into New York City via Amtrak, which, instead of dreary Penn Station, is now housed in the new Moynihan Train Hall, the result of a $1.6 billion transformation of an old post office. Yet even before Moynihan opened in 2021, Penn Station lost its McDonald's.
Moynihan, like the new Thruway stops, seems to be aiming for novelty over comfort when it comes to its food options, offering food with a higher-end, more-rooted-in-NY slant. Eateries inside the train station include New York City staples like Magnolia Bakery and a forthcoming satellite location of Jacob's Pickles, an Upper West Side restaurant that serves Southern-style buttermilk chicken.
It will be interesting to see how, over time, New York's emerging approach to in-transit dining—one that creates a more "curated" experience—will unfold. Without its once ubiquitous presence in transit spaces across the state, McDonald's relationship to New Yorkers and their everyday eating habits seems all but guaranteed to change, however slightly or subtly.
Of course, McDonald's relationship to those travelers might be evolving anyway, given its current pilot of locations that only offer mobile order pickup and delivery. While we may never be without the Golden Arches, how and where we interact with them does certainly seem to be shifting, for better or worse.