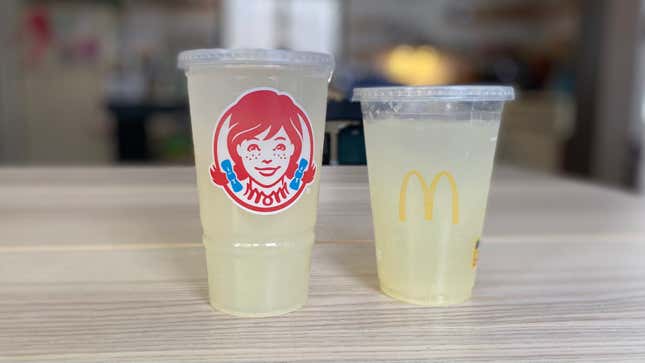 When McDonald's sent a tart shock into the universe last week by suddenly debuting lemonade with pulp and sugar at locations nationwide, the world began asking important questions, including "What took so long?" and "Is McDonald's coming for Wendy's?"

How To Dispose Of Cooking Grease The Easy Way After Frying
McDonald's vs. Wendy's, explained
Much of the conversation about McDonald's lemonade has focused on Wendy's, which might seem odd. Wendy's is far from the only chain that offers fresh lemonade—Chick-fil-A, Raising Cane's, and others also sell a fresh squeezed product. Wendy's lemonade, however, is not only a highlight of the chain's beverage menu, but also comes in four different flavors (which, yes, we've ranked).
In fact, Wendy's lemonade is memorable enough that I have actually made trips there specifically for the lemonade, especially on hot summer days. So, when McDonald's announced that it would be debuting a new house-made version, I, like the rest of the world, immediately began to wonder if it would stack up to Wendy's.
Is McDonald's lemonade actually "fresh"?
The McDonald's menu describes the new lemonade offering as "lemonade made with real lemon juice, bits of lemon pulp and real cane sugar." So, while it doesn't sound like employees are in the back squeezing lemons and mixing batches by hand, the product does appear to contain components derived from real lemons.
Wendy's, similarly, does not likely have a lemon squeezer on staff. The menu lists its lemonade ingredients as "water, sugar, lemon juice, lemon pulp, lemon juice concentrate, natural flavors." The addition of pieces of fruit in Wendy's Strawberry Lemonade, for example, boosts its "fresh" feeling.
Goodbye, Minute Maid
Speaking of fresh lemonade, it's your only choice at McDonald's now. My local McDonald's had signs taped to the ordering kiosks and the fountain drink station explaining that now that McDonald's has "premium" lemonade, Minute Maid lemonade, which came from the soda fountain and was previously offered at all locations, will no longer be sold.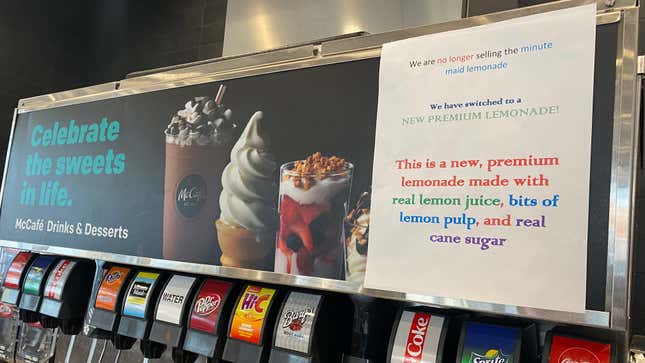 Before seeing the signs, I had ordered a soft drink, intending to compare the Minute Maid lemonade to the new fresh one (while comparing them both to Wendy's). There was still a spot for Minute Maid on the fountain, so I gave it a try, but just water came out. McDonald's means business. You are not getting two kinds of lemonade here, folks.

This means that if you like lemonade but don't want any pulp, Minute Maid might be your preferred version, and now you might be stuck paying more than you would have for a less desirable product. At my McDonald's, a medium fountain drink is $1. A medium lemonade costs $2.19.
I'm not sure whether this is related in any way, but Minute Maid orange juice, which comes from behind the counter during McDonald's breakfast hours, is listed as "currently unavailable" in my McDonald's app. I'll hope, for the love of breakfast time, that it's unrelated issue, and that McDonald's hasn't divorced itself from Minute Maid products altogether. I love a cold Minute Maid orange juice in a fountain cup, sipped through a straw.
Is McDonald's lemonade better than Wendy's lemonade?
Unlike Wendy's, which offers four flavors of lemonade, McDonald's only added classic yellow lemonade to its menu. So that's what I ordered from each restaurant. I got a small, which at McDonald's is 250 ml (roughly 8.5 ounces) and at Wendy's is 12 ounces.
In appearance alone, the two looked pretty similar. Upon first sip, they also tasted exceedingly similar. McDonald's hasn't invented anything new here, but the brand has rolled out a classically refreshing drink, so, good on McDonald's.
In the end I noticed two very subtle differences. Firstly, McDonald's lemonade is a little sweeter, whereas Wendy's skews a little more tart. I use "little" in both instances here to denote an extremely slight difference; they were nearly identical. Secondly, at the bottom of the cup (I drank it without a straw) there was a little more pulp in the McDonald's cup than the Wendy's one. Again, a "little" here means, really, a little.
For what it's worth, my seven-year-old Vermonter child, who is mildly obsessed with ordering legitimately freshly squeezed lemonade at the farmers market, said they both tasted like "farmers market lemonade."
McDonald's won't topple Wendy's lemonade game
Will I order a fresh lemonade with my Big Mac on a hot summer day? Maybe. But I personally don't see McDonald's becoming as strongly associated with lemonade as Wendy's is.
Of course, McDonald's could always prove me wrong by going wild and adding a bunch of fun flavors to the lineup. But for now, I'll continue to consider Wendy the reigning lemonade queen.