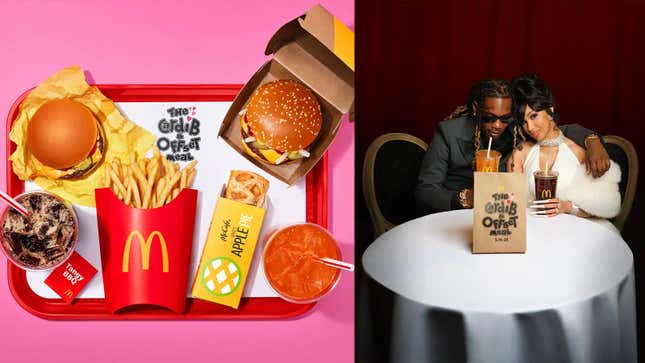 Despite McDonald's clear record of success with its celebrity meal promotions over the past two and a half years, these limited-time offerings aren't always embraced by the franchise locations tasked with selling them. The Wall Street Journal reports that some franchise owners have told McDonald's they do not want to promote the new Cardi B and Offset Meal, which debuted on Valentine's Day.
How To Dispose Of Cooking Grease The Easy Way After Frying
McDonald's Cardi B and Offset Meal, explained
McDonald's latest celebrity meal was first promoted via a Super Bowl ad featuring musical artist and celeb couple Cardi B and Offset talking about their favorite McDonald's order; everyday couples are also featured in the ad, proving their love for one another by reciting their partner's order. It's pretty cute. The official Cardi B and Offset Meal (added to the McDonald's menu on the very appropriate date of February 14) consists of Cardi B's preferred order of a cheeseburger, BBQ Sauce, and a Coke, all served alongside Offset's preferred Quarter Pounder with Cheese and Hi-C Orange Lavaburst, plus a large order of fries and an apple pie to share.
"Cardi and Offset are an iconic couple who have their own date-night tradition at McDonald's that goes back years," Tariq Hassan, Chief Marketing and Customer Experience Officer for McDonald's USA, wrote in a statement to The Takeout via email. "We're proud to share a little piece of that with customers across the US with our latest campaign, which is about love and celebrating the special moments we all share over McDonald's."
Although this particular promotion focuses on love, emails reviewed by the Wall Street Journal indicate that some McDonald's franchisees are just not feeling it. Some owners have told McDonald's U.S. Division that the two artists' lyrics and lifestyle do not align with McDonald's brand or the restaurant's family-friendly image. They've also encouraged other franchisees to remove advertising associated with the current celebrity meal from their restaurants.
The Wall Street Journal was unable to determine how many franchise locations refused to promote the meal but was able to determine that the concerns came from restaurants in Southeastern and mid-Atlantic states.
Past controversy surrounding McDonald's celebrity meals
Celebrity meals have become a recent marketing pillar for McDonald's. The craze kicked off in 2020 with the debut of the Travis Scott Meal, a $6 combo that included a Quarter Pounder with Cheese with all the regular toppings plus shredded lettuce and bacon, served with medium fries with barbecue sauce on the side and a Sprite. The idea was that customers could eat the same meal as popular rapper/singer/songwriter/producer/influencer Travis Scott, and the concept was a massive hit.

McDonald's confirmed to The Takeout that Quarter Pounder sales doubled during the first week of the Travis Scott Meal's launch in September 2020. It was also reported by Business Insider at the time that the burger chain's U.S. same-store sales went from an 8.7% drop in the second quarter (at the height of the pandemic) to a 4.6% gain in the third quarter due in part to the popularity of the Travis Scott Meal.
However, the meal's success did not come without some issues. Scott was reportedly fined $200 when a promotional stop at a McDonald's location in California drew a crowd of hundreds without the proper permits. Also, many workers at the time grew tired of TikTok creators and other internet influencers pulling stunts in the drive-thru lane, like blasting Scott's music into the speaker or ordering the meal in a cryptic way laden with Scott references. The Wall Street Journal also reported that 65% of U.S. franchisees didn't support the collaboration when it was announced, according to an August 2020 internal survey of 730 of the brand's operators. (Maybe the sales numbers upon the meal's release changed some of their minds.)
McDonald's celebrity meals have been a success
Pushback from some operators aside, the chain's other celebrity meals have also been highly successful. The company confirmed that the BTS Meal, which debuted in 2021, significantly lifted Chicken McNugget sales, and 2022's Cactus Plant Flea Market Box (a.k.a the Adult Happy Meal) helped drive the highest weekly digital transactions ever for its U.S. business.
"Across our marketing, we're focused on putting McDonald's at the center of culture," Hassan said. "Artist collabs have helped reignite fans' love for our food and fueled significant business momentum, both for the company and our restaurant owner/operators. And the reason they've been so successful is that our partners are real fans of the brand themselves – that authenticity is our secret sauce."
In regards to the current promotion with Cardi B and Offset, McDonald's confirmed it has seen widespread support and excitement from operators and restaurant crews as well as fans. This includes "record-breaking positivity" on social media on the day the meal was announced—a stat that might have been helped by Super Bowl LVII's 113 million viewers.
A vocal subset of franchise owners might disagree with these celebrity partnerships, but their objections to the celebrities involved just don't reflect the greater reality. The performance of these promotions speak for themselves, and the fact that McDonald's keeps rolling them out tells us all we need to know.