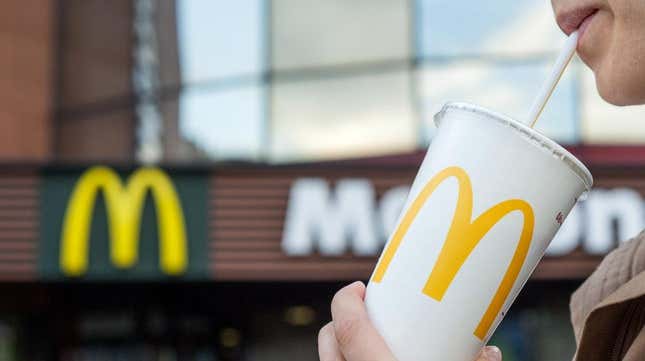 The days of refilling your large cup with Coca-Cola on your way out of McDonald's might soon be over, Business Insider reports. The chain has confirmed that it plans to phase out customer-facing soda machines by 2032, and the process of removing them has already begun.
How To Dispose Of Cooking Grease The Easy Way After Frying
At most typical McDonald's locations, dine-in customers who order a drink as part of their meal are handed an empty cup to fill with their choice of soda (or water, or lemonade, or Hi-C Orange Lavaburst) from the fountain machine. Within this self-serve process, refills are free and at the discretion of the customer. However, both McDonald's corporate and its franchisees no longer feel this is the best system for serving customers.
McDonald's USA confirmed to The Takeout that phasing out the self-serve fountain soda machines will create a more consistent experience for everyone involved, since right now there are different soft drink ordering protocols depending on whether you order at the counter, via the app, at a kiosk, or in the drive-thru. The change will, in theory, make things easier for both the customer and the employees.
The dine-in experience at fast food restaurants has become less and less of a priority for the major chains since the pandemic, with more people opting for pickup and delivery options. For this reason many chains, including McDonald's, Starbucks, and Taco Bell, have begun testing delivery and pickup-only locations. (Though it should be noted that Starbucks was testing this concept before the pandemic, too.)
The State Journal-Register also reports that franchise locations in Illinois have already begun to phase out self-serve fountain soda. Franchise owners in the state said the change is happening to improve convenience, food safety, and theft prevention, but they also note that it's a result of having less dine-in business overall.
One Illinois location, the State Journal-Register notes, has started the transition by having a "crew pour" system in which employees pour the initial drink for dine-in customers and bring it to their table. After that, customers can refill on their own. However, this is just a transitional solution; the end goal is still to get rid of the self-serve aspect altogether and only have employees pouring the beverages. Once new equipment is installed at certain locations, an automated beverage system will mechanically fill drink orders, and only new cups will be used for refills, allowing for less human contact.
Overall, the lack of dine-in customers seems to be what's driving these decisions; considering all the space a fountain drink machine takes up and all the maintenance it requires, this adjustment is probably a sound business decision, even if it leaves customers a little heartbroken. If your biggest concern is losing out on free refills, you can take some comfort in the fact that at least one McDonald's franchisee told the The State Journal-Register that they don't see that being eliminated.
"Free refills are a big draw for people," said Kim Derringer, the franchise operator for three McDonald's locations in the Springfield market of Illinois. "I don't see anything taking that away."