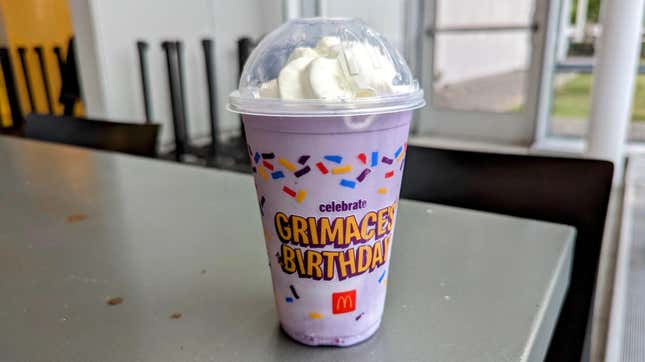 "This viral phenomenon is yet another proof point of the power of marketing at McDonald's today." That's what McDonald's CEO Chris Kempczinski said on a Q2 earnings call this week regarding the massive success of the limited-time Grimace Birthday Shake, rolled out nationwide for a few weeks in June. When Kempczinski took the top job in 2019, he might not have realized that so much of his time and brain space would, in 2023, be taken up by a seven-foot-tall fuzzy purple Gemini that can't type very well. But if the chief executive didn't initially anticipate getting so deep into McDonaldland lore, he sure as hell is prepared to do so now.

How To Dispose Of Cooking Grease The Easy Way After Frying
McDonald's has released its Q2 earnings report, and it's virtually all good news for the brand: At U.S. locations open for more than 13 months, same-store sales saw a 10.3% jump. Total sales, meanwhile, saw an increase of 14%. It's hard not to think that Grimace, whose birthday fell on June 12, had a lot to do with it—after all, he's the entire source of the "viral phenomenon" Kempczinski is talking about.
Grimace horror films powered McDonald's sales in Q2
By any measure, the Grimace Birthday Meal was more marketing than R&D. It consisted of either a Big Mac or 10-piece Chicken McNugget, an order of medium fries, and a new purple shake made of vanilla soft serve and a light berry flavoring. None of that is groundbreaking, but McDonald's coordinated a social takeover around the release, with Grimace himself doing the tweeting, the TikTok-ing, and the Instagramming. And it worked. Not only did the meal perform extremely well due to general curiosity, it also sparked a TikTok trend all its own—one that no executive could have seen coming.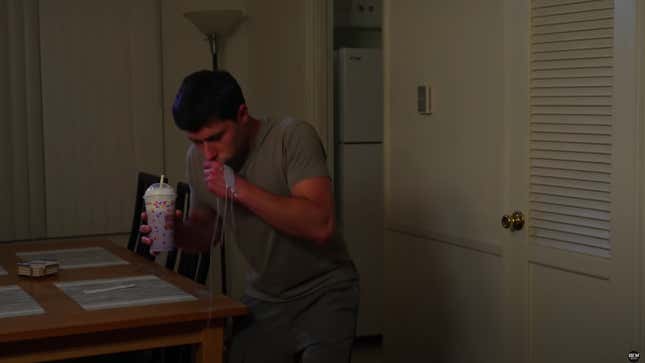 By mid-June, Gen Z was all over TikTok posting comedy/horror videos featuring the Grimace Birthday Shake. Most of them start out with an innocent "Happy Birthday, Grimace!" as the subject of the video takes their first sip of the shake. A jump-cut ensues, and the next thing on screen is some sort of grisly death, the victim lying on the ground covered in purple milkshake. The videos are absurdist, they're irreverent, and they each cost at least one Grimace Birthday Meal, about $10-12, to produce, because customers couldn't order the shake a la carte.
McDonald's couldn't have asked for anything better. Indeed, rather than trying to shy away from the viral phenomenon and let it play itself out, the chain had Grimace "respond" in the best way possible: in one TikTok, Grimace simply shields his eyes with the caption, "meee pretending i dont see the grimace shake trendd" (remember, he has big fuzzy hands and can't type well).
"This quarter, the theme is—well, if I'm being honest, the theme was Grimace," Kempczinski said on the call. And now, surely bolstered by the success of trudging out old character-driven IP, McDonald's is preparing to build a whole restaurant concept around one of its retro characters.
McDonald's latest plans for its characters
CNN reports that McDonald's will roll out a new concept in select test markets next year called CosMc's, based on a lesser-known figure from the fast food chain's commercials. CosMc is an alien who occasionally visited McDonaldland and got up to hijinks there; in this 1987 commercial, for example, CosMc plays the grifter, stealing everyone's lunch in an unfair trade before Ronald drags him backward with a giant magnet and they all share the picnic.
He's not the character I'd build a restaurant around—I'd prefer to see what Birdie is capable of—but we have to give McDonald's points for finally redirecting its attention to its long-neglected cast of colorful characters. Clearly, between last year's Adult Happy Meals full of McDonaldland-themed toys and this year's Grimace Birthday celebrations, customers are ready to embrace the back catalog.
We don't know much more about CosMc's at the moment; further details will come at Investor Day toward the end of the year. What would you like to see at a kitschy, space-themed McDonald's outpost?