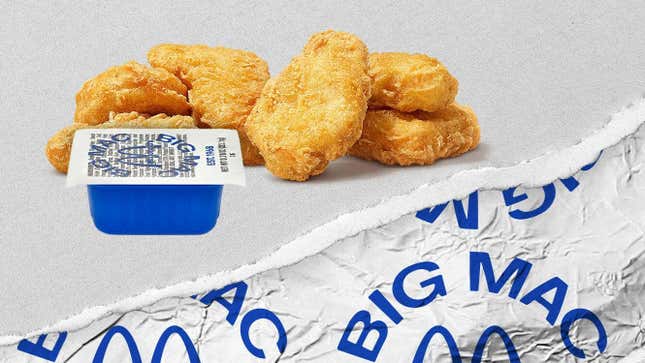 We're judicious about using the word "iconic" at The Takeout, but when it comes to fast food burgers, McDonald's Big Mac truly stands apart. And much if not most of its distinction comes from its signature sauce, made from a base of mayo and pickle relish. McDonald's knows that the masses can't get enough of it, which is why Big Macs will soon be saucier by default. Not only that, but cups of Big Mac dipping sauce will soon be available at a McDonald's near you.

McDonald's Shrinks Its Restaurant for the Digital Age
Yup, you read that correctly: Starting April 27, customers will be able to add cups of Big Mac dipping sauce to any order at participating locations, an offer available exclusively through the mobile app and only for a limited time. This harkens back to McDonald's 2o22 Szechuan Sauce re-release: that condiment, too, was only available through the app, a carrot on a stick for McDonald's to net more downloads.
How to order McDonald's Special sauce dipping cups
The Big Mac dipping sauce cups will be available at no extra charge when selected as the sauce for an order of Chicken McNuggets. It will also be able for purchase a la carte to pair with, well, anything else on the McDonald's menu. With Big Mac sauce in a cup, the possibilities are endless. You can put it on a Filet-O-Fish, drown a Quarter Pounder, or dip your fries into it. Hell, nobody's stopping you from pouring it into your McFlurry.
The secret sauce won't be emblazoned with McDonald's signature red and yellow color scheme. It'll be packaged in little blue-and-silver tubs, a nod to the Big Mac's original wrapper when it debuted in 1968. This isn't the first time McDonald's has released the sauce in different formats, either. In 2017, the company gave away 10,000 bottles of Mac sauce for home use. I scored one such bottle myself and used it to make a Big Mac pizza. It was fucking glorious.
Just like all of McDonald's best ideas, this is a limited time offer. Set your reminders for April 27 and start dreaming up all the best ways to use Mac sauce. If you somehow miss out on these condiment cups, don't forget to check out this copycat recipe straight from McDonald's former corporate chef, Mike Haracz.