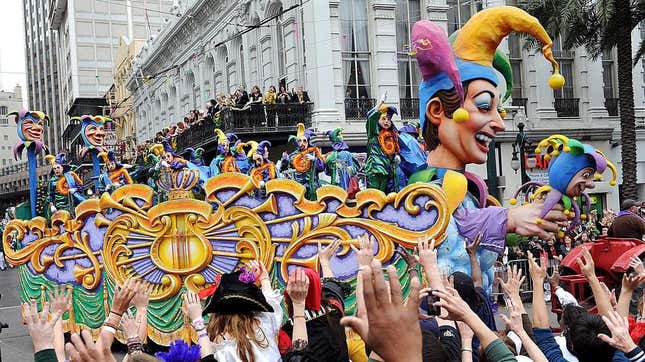 This time of year, the streets of New Orleans are lined with cheering spectators at Mardi Gras parades. Everyone is hoping to catch coveted souvenirs, called throws, tossed by the krewes whose floats roll by the crowds.
How To Dispose Of Cooking Grease The Easy Way After Frying
You might not get a coconut from the traditionally Black Krewe of Zulu or a glittered umbrella from the new female Krewe of Themis (to which I belong), but even if you miss out on the throws, you are sure to eat well. New Orleans places as much importance on parade foods as it does on the festivities themselves, which abound through Mardi Gras Day on February 21.

Chef Alon Shaya, who just launched a weekend jazz brunch at his glitzy restaurant Miss River, says he takes a simple approach to parade food. "The thing is not to overthink it and make it into something more than it is," he says.
Parades are not a time for fussy dishes like chocolate mousse or souffles whisked out of the oven before serving, adds Elizabeth Williams, founder of the Southern Food and Beverage Museum.

"Oh, gosh no, nothing precious," says Williams, author of Nana's Creole Italian Table: Recipes and Stories from Sicilian New Orleans. "Portability is the key. You are not going to eat anything [at a parade] with a knife and fork." That's because you need at least one hand free in order to catch beads from a float. If you're serious about snagging souvenirs, "you can't go sit down, unless there's a lull in a parade," Williams says.

Fried chicken is the centerpiece of any Mardi Gras parade party
Hands down, the most crucial parade dish is fried chicken, popular in New Orleans year-round but especially at parade time. The biggest name in fried chicken at this time of year is McHardy's Chicken & Fixin' on North Broad Street. Its menu allows people to order up to 100 pieces at a time, at a price of $205, and the restaurant can prepare even more for special orders.

Beyond McHardy's, though, any fried chicken spot with a good reputation is bustling at this time of the year. In 2019, I was invited to a party at a house a block from the route taken by Muses, another all-female parade organization. Hosts typically set up buffets before the parade begins and stage open houses where guests can feel free to stop by and eat, use the facilities, then saunter down to watch the floats. The dining table at my host's house had boxes of chicken from eight different restaurants, along with plenty of side dishes and king cake.
Williams says fried chicken passes the ultimate Mardi Gras parade food test: It's good even if it sits out a while.
"People in New Orleans eat a lot of cold fried chicken," she says. Indeed, McHardy's sign declares, "Always Fresh, Hot and Cold."
Beer, cocktails, and frozen drinks are a must
In this alcohol-saturated city, adult beverages rank high on the list of parade must-haves, whether the drinks are toted to parade-watching sites or served back at the house. Beer and wine definitely pass Williams' portability test, and many people also turn to frozen daiquiris, available at drive-thru stands all across the area. Party-sized drinks also are available from food shops and restaurants and even hotels.
The Park View Historic Hotel next to Audubon Park offers one-gallon jugs of screwdrivers for $80 and Bloody Marys for $90. Also for $90 is King Cake Milk Punch, a drink made of Old Granddad bourbon, king-cake-flavored simple syrup, and Christian Brothers brandy.
If your drinking needs are more modest, Gabrielle Restaurant will sell you a quart of bourbon milk punch for $30 (a gallon costs $100). The Chicory House, the cafe on Prytania Street run by the Garden District Book Store, installed a double-Dutch door behind its front counter so it can serve parade-goers. Revelers can order a frozen pear and lime Bellini called The Green Parrot for $15 or a draft beer for $8; canned cocktails and beer are available for $4.
A brand new restaurant, Devil Moon BBQ, is opening in the Central Business District this week (brave of them) with Hurricane and Frozen Pimm's cocktails in three sizes: 10 ounces for $12, a quart for $28, and a half gallon for $50, a relative bargain among Mardi Gras batch cocktails.

If you need your drinks within closer reach, innovative New Orleanians have an answer for that, too. Williams says she's seen people rig up backpacks with two- to three-liter beers inside, connected to a long, thin hose. When one keg runs out, the drinker smoothly switches to the next one. She's also spotted people with old-school wine bags called botas, which merely need to be hoisted to the lips.

Food along the Mardi Gras parade route in New Orleans
What if you haven't thought out a menu, aren't invited to a party, and are still hungry? Never fear.
"I always get food on the street," says Shaya. He'll seek out barbecue, a hot sausage po'boy, or yaka mein, the salty noodle soup made famous by Linda Green, better known as Miss Linda.
Piccola Gelateria is rolling carts of gelato out to sell along the parade route from its shop near Magazine Street. Owner Ria Alicehic Turnbull says the shop is doing a brisk business around the holiday.
If you have a hankering for fried chicken, there is a new option this year: Southerns, known for its massive chicken sandwiches and delectable tenders, received permits from the city to park three food trucks along the parade route. It's the first time Southerns has gotten permission to sell during the parades, although winning three of the 75 available slots was rigorous.
"Think of 80 hula hoops that you have to jump through at various heights," said Anthony Cruz, co-owner of the Southerns trucks. Still, he wasn't deterred.
"We live here, we serve this community, and we want our food to be accessible," Cruz says. "We love this city and we want to serve food in this city."
Since he had to shell out nearly $2,000 up front for the permits, Southerns has instituted a small price hike. A chicken sandwich costs $12, up $2 from his regular street price, and a generous serving of chicken tenders went up $1 to $10.
Another source of income for the vendors is providing catering to riders on the floats. My float ordered boxed lunches from Jason's Deli, which were delivered right on board the float. My box contained a hearty turkey sandwich, chips, and a chocolate chip cookie to enjoy along the route.
Flour Moon Bagels, which opened in 2022, has seen brisk sales of its $95 Krewe Bagel, an extra-large bagel stuffed with smoked salmon, cucumber, capers, red onion, and cream cheese that can be sliced up to serve 12 people.

How Mardi Gras differs from tailgating
All this might bring to mind the kind of preparations that go into football tailgating, but as Williams explains, there is a major difference.
"Football tailgating almost requires you to set up a kitchen next to your car," at least among its most fervent practitioners. "You can't do that at Mardi Gras; there are too many people."

Rather than stage anything too elaborate their first time out, Shaya advocates that newcomers and visitors give business to the people selling food during parades. "They're working hard, and they always have something delicious," he says.

Besides, Williams says a casual approach is key: "It's not Georges Seurat picnic kind of food—the basic test is, can you drink beer with it?"