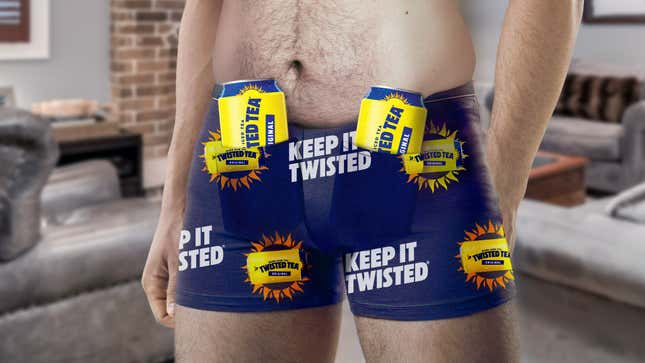 March Madness is a time for brackets, snacks, beer, and balls—usually basketballs, but oddly enough, food and beverage brands have made it an annual tradition to zero in on the more anatomical kind. Each year during the NCAA tournament, there's at least one promotion tying our favorite snacks and drinks to vasectomies.
"But why?" you might ask, just as we did. Well, there's sort of a connection there. Kind of.
There is actual evidence to support the belief that spring is "vasectomy season"—and one theory is that people choose to schedule vasectomies specifically around March Madness so that they can spend their recovery time on the couch watching the games. In all likelihood, someone who's just undergone the procedure will also be indulging in whatever snacks and drinks might aid their recovery as they take things easy for a few days.
The logic here is flawed, as there's no hard data to back up the claim of an increased number of vasectomies, but there is some anecdotal evidence. At one urology clinic in Ohio, urologists expect to perform more than 150 vasectomies over the next few weeks versus the typical count of 15, The Wall Street Journal reports. And a 2018 study did find that March and the end of the year were the most prevalent times for vasectomies to be performed. However, the American Urological Association has never reported any data linking March Madness to an increased number of vasectomies performed.
But that's not stopping Twisted Tea from having a little fun. The hard iced tea brand is currently making the most of vasectomy season and March Madness by offering special underwear that helps basketball fans address their post-vasectomy needs as they watch the games. The Twisted Tea VasectomUndies—yes, that's what they're called—are described in a press release as "a unique pair of boxers with two strategically placed pouches for ice-cold cans of Twisted Tea." (The "strategic placement" can be seen in the photo above.)
"Fans 'on the bench' can now enjoy a cold, refreshing Twisted Tea while icing their... sore spots," the press release says. And they're free!
And that's not the only promotion of its kind. In a similar vein, Jack Link's is offering "Tender Meat for Tender Meat" post-vasectomy care packages, per a press release sent to The Takeout. Included in the care package are an ice pack, a meat-themed blanket, a mini basketball set, multiple bags of Jack's Links meat snacks, and an "Ode to Your Load" letter from the brand. How... sweet?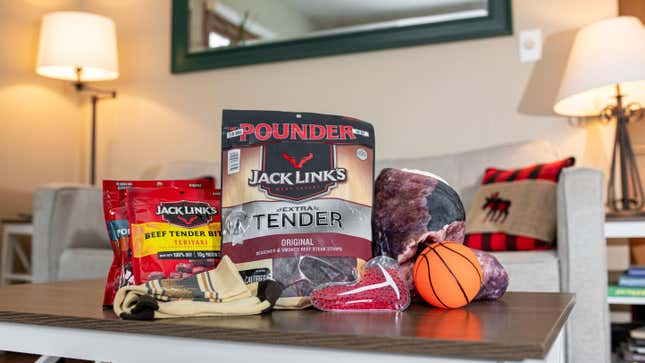 This has been going on for a few years now. Back in 2019, Buffalo Wild Wings ran a promotion that included a special bar stool, the Jewel Stool, for post-vasectomy patients to sit in and enjoy March Madness games at two of its restaurant locations in Texas. The unique stool included a chilled cup holder, a beer button to let the bartender know when the customer is ready for another drink, and a "cooler" specifically for the body parts in recovery.

Is it absolutely necessary to tie national vasectomy data to our favorite food and drink? Hardly. But if I've learned anything from working at The Takeout, it's that where there's a will, there's a way marketing team that will find a connection, no matter how tenuous.