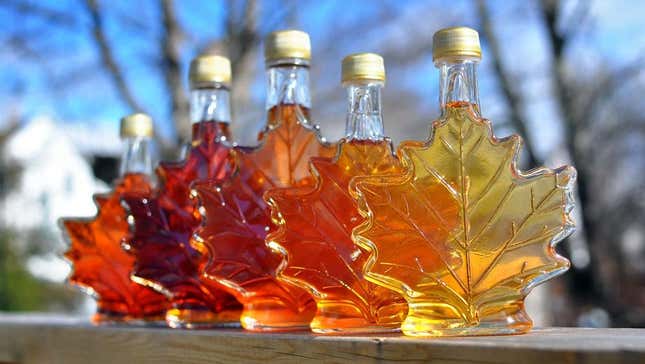 I grew up in Michigan, where maples were the dandelions of trees. They were everywhere, especially across the back of the garden. My dad, an intrepid (not to mention thrifty) New Englander, saw those trees as more than shade—they were a source of sap.

How To Dispose Of Cooking Grease The Easy Way After Frying
In late winter, he'd put on his galoshes and trek out back to tap our trees, then take whatever flowed into the bucket back to the house to strain and boil down. We rarely got much syrup, but that low yield only grew my respect for maple syrup professionals.
This year, the maple syrup world is in an uproar: Unusually warm winter temperatures in January and February mean the sap is running much sooner than it has in the past. Across New England, the season is starting at least a month early, upsetting a timetable that has been consistent for generations. Typically, sap runs for three weeks in late winter, closer to St. Patrick's Day than Mardi Gras.

Ruscom Maple Farms in Lakeshore, Ontario, finished installing 130 taps in its grove on February 4—"earliest EVER," according to a Facebook post. Workers immediately began boiling sap for syrup and were still collecting sap as recently as February 21. Although Ontario was hit this week by ice and snow, there's a strong possibility farmers could see another sap run once the weather warms up.

Matt Paggi at Barred Woods in Underhill, Vermont, tells The Takeout that unusually warm winter weather prompted him to begin tapping trees on Valentine's Day. Last year, he didn't begin making syrup until March 11.
"The lesson learned for us is that next year, we have to start even earlier and get at least part of our sugar bush ready by mid-January, so we don't miss any early runs," Paggi says.
The sped-up cycle means two things for maple lovers: One, they need to be planning road trips and Sunday drives now to pick up the new crop of maple syrup, granulated maple sugar, and maple candy, rather than wait until late winter or early spring. Two, they will need to brace for possible price increases.
Ruscom Maple Farms hasn't increased its prices yet, but it's facing higher costs for glass bottles this year, both the plain flasks and those shaped like a maple leaf. A 500-milliliter container costs $15 Canadian (about $11 USD) while a 50-milliliter mini-bottle costs $5 Canadian ($3.69 USD).
Paggi says he's holding the line on prices thus far by improving his farm's efficiency. Barred Woods installed a new evaporator, used to boil the syrup, that is twice as efficient and twice as fast as his previous evaporator. His syrup is $31.95 for a half gallon, and a half pint jug is $6.95.
Maple syrup typically has a year-long shelf life, while the granulated sugar keeps for about 18 months. Even if you buy earlier than you normally do, your syrup will last until 2024.