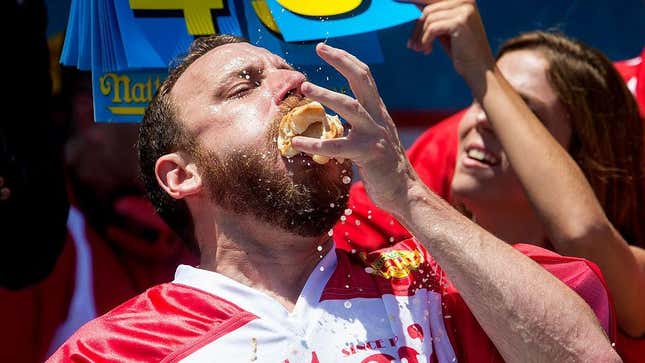 There's a good chance you've heard of Joey Chestnut, the world champion competitive eater who has broken just about every record (including his own) at every eating contest for the past two decades. And when you think about it, isn't that kind of an amazing feat in itself? That someone could eat their way to becoming a household name? Miki Sudo, Eric "Badlands" Booker, Takeru Kobayashi—all folks who have chomped and chewed their way into our collective consciousness, one medal at a time. And towering above them all is Major League Eating, the organization that keeps the engine of our fascination humming.
How To Dispose Of Cooking Grease The Easy Way After Frying
"MLE-sanctioned eating contests provide dramatic audience entertainment and offer an unparalleled platform for media exposure," reads the About page on the official website for Major League Eating, which oversees all professional eating competitions. "MLE promotions generate billions of consumer impressions annually."
Most of us have, at least in passing, caught coverage of the Nathan's Hot Dog Eating Contest, held annually on the Fourth of July at Coney Island; ESPN covers the event. But Major League Eating oversees many other less celebrated events throughout the year—roughly 70 of them—and this summer has other competitions planned beyond hot dogs. Here are a few highlights.
World Donut Eating Championship
This Friday, June 2, is National Donut Day, a "holiday" originally created by the Salvation Army in 1938. Only for the past five years, however, has the celebration included a doughnut-eating contest in partnership with MLE and BakeMark (which makes the doughnuts). The competition takes place aboard the USS Midway in San Diego, and it serves as a fundraiser for veteran services.
"Eaters will have eight minutes to consume as many BakeMark Donuts as possible," reads the press release. "At last year's event, Miki Sudo claimed victory after eating 39 1/2 donuts in eight minutes. This year, all competitors will set out to surpass the record Joey Chestnut set in 2017 after eating an astonishing 55 donuts in eight minutes."
Though it's primarily a fundraising event, the winners will take home a collective $2,000.
World Egg Roll Eating Championship
You almost certainly haven't heard of Outlaw Egg Rolls, the food truck "Where Texas Meets Asia." It was only started in 2020 during the pandemic, and it has grown into a flourishing veteran-owned independent business serving up egg rolls around Lubbock. But in partnership with MLE, the business is raising its profile with a good old-fashioned eating contest, held this year on June 10, 2023.
"We already know that many of the same competitors are returning and we have seen a huge amount of interest in new competitors taking on the challenge," Outlaw writes on its website. "The first-ever egg roll eating record was set by Geoff Esper as he ate an amazing 32 1/4 4-oz. Ranch Hand Egg Rolls in 8 minutes."
This will be the second annual contest. The total prize purse is $4,000, with the champion taking home $2,000, the runner-up scoring $1,000, third place $500, fourth place $350, fifth place $100, and sixth place $50. So really, you don't have to be all that confident; you just have to eat the sixth highest amount. Sound like an ideal way to earn $50?
World Strawberry Shortcake Eating Championship
Coming up on June 17, The Mattituck Lions Club World Strawberry Shortcake Eating Championship will take place in Mattituck, New York. Back to defend his title will be two-time winner Geoff Esper, who, yes, is the same champion of the egg roll eating contest you read about above. This photo posted by MLE on Twitter isn't of Esper, but just to give you an idea of what the competition entails:
Again, eight minutes is the name of the game here—contestants must crush as many strawberry shortcakes in that amount of time as possible. In 2019, Esper downed 17 pounds of the stuff. If that sounds appetizing, well, registration is officially open! The total prize purse is $3,500 for this one, but the lingering scent of half-gobbled strawberries following competitors like a halo wherever they go? That's free.