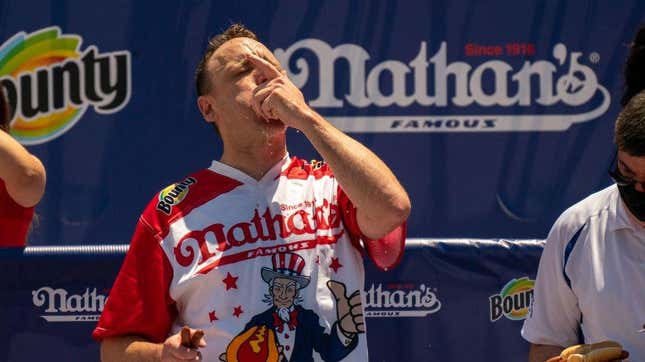 They say the Spartans descended from Hercules himself. Thus, we may conclude that hot dog eating champion Joey "Jaws" Chestnut hails from ancient Sparta, where only the strongest men survive. Case in point: CNN reports that Chestnut, the top-ranked hot dog eater in the world, devoured 76 hot dogs and buns in 10 minutes on Sunday during the annual Nathan's Famous International Hot Dog Eating Contest. Weiner glory is upon him, this Joey Chestnut! In the words of King Leonidas, the world will know that free men stood against a wiener tyrant! There is glory in Chestnut's sacrifice! Well, hot dog glory. But still: glory.
All the Best Finds at the Sweets & Snacks Expo
This is Chestnut's 14th time winning the Nathan's contest in the last 15 years. He also broke his personal best record of 75 this year, sucking down 26 more than second place finisher Geoffrey Esper. (Per Sporting News, each year, the overall victor typically receives $10,000 of the $40,000 total purse.) This year's annual hot dog eating extravaganza was a true talent showcase, with Michelle Lesco winning the women's championship after consuming 30 3/4 hot dogs and buns, 6 3/4 more than runner-up Sarah Rodriguez.
CNN reports that the annual Fourth of July event took place in front of weenie-loving spectators in Coney Island. Nathan's claims that the first contest of its kind was held on July 4, 1916, as four immigrants competed in a hot dog extravaganza to prove their patriotism. (???) Regardless, records of the official contest only go back to 1972. But Chestnut's legacy? The image of that bold, mad, glorious man cramming 76 hot dogs into his dry gullet? The effigy of one mortal feasting in Hell? That will live on in legend as Chestnut takes his place among the Gods. Long may he reign.