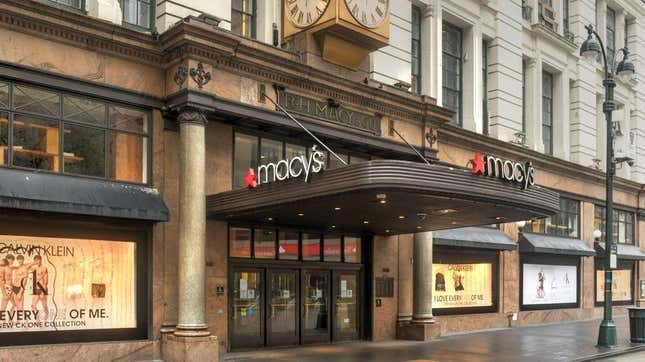 Tucked among the perfume counters and home decor displays of an iconic department store is a culinary empire few are aware of. Macy's, which has more than 500 locations across the United States, is a retail chain focused as much on its in-store dining experiences as its shopping-related ones. Nation's Restaurant News recently detailed the ins and outs of Macy's sprawling restaurant business, which technically dates back more than a century.
How To Dispose Of Cooking Grease The Easy Way After Frying
Back in 2005, Macy's parent company acquired the Marshall Field's brand and converted Field's to Macy's (much to the chagrin of Chicagoans). Along with the acquisition came a culinary jewel upon which Macy's has since expanded throughout the country.
The Walnut Room, which first opened at Marshall Field's in downtown Chicago in 1907, was the first restaurant ever opened inside a department store. (Its 17,000 square feet of dining space continues to serve customers to this day.) The concept has grown exponentially in the decades since. Macy's currently operates 500 store locations, and within that system are about 120 restaurants—a mix of proprietary, franchised, and licensed food concepts, Nation's Restaurant News explains.
Many of the restaurants are independent, one-off locations. In addition to the Walnut Room, Macy's in Chicago also houses Seven on State, an upscale food hall on the seventh floor specializing in quick service options. Tom Leuer, senior director of Macy's Food Division, noted to Nation's Restaurant News that Macy's also has 20 proprietary Macy's Cafes in its stores serving Starbucks coffee, and the brand also operates more than 70 licensed Starbucks locations. On top of that, Macy's flagship location in New York contains Stella 34, an authentic Italian restaurant, and Rowland's Bar & Grill, an American gastropub concept.
Macy's newest proprietary concept opened in June in Minnetonka, Minnesota. The Social Kitchen & Libations is an upscale, cloth-napkin-type place serving up chicken pot pie, Mandarin salad, Porchetta sandwiches, and meatloaf sliders, among other items. Though it's a nice full-service restaurant, the prices appear reasonable, with the most expensive entree costing $16. The new in-store concept also has a brunch menu and bloody mary bar.
Outside of its proprietary restaurants, Macy's also operates licensed and franchised restaurants such as The Cheesecake Factory, Au Bon Pain, Subway, Just Salad, and Wetzel's Pretzels. The brand also maintains partnerships with local businesses in various locations for in-store restaurants, including Liliha Bakery in Honolulu, Boudin Bakery in San Francisco, Sessions Deli in Southern California, and Zaro's Bakery in New York City.
The food and beverage offerings not only add to the shopping experience but also keep customers in the store longer, likely filling up their bags even more merchandise. Both Leuer and a recent franchisee of a Wetzel's Pretzels location within a Macy's store noted to Nation's Restaurant News that such partnerships are a win for both parties.
Macy's has plans to continue adding food and beverage concepts to its locations nationwide. "We are continually looking for new concepts, trends, and new brand partners to join our portfolio," Leuer said. "Our programs contribute value to the overall shopping experience by catering to customers' needs, whether it's for a snack, meal, or drink."