Last Call is The Takeout's online watering hole where you can chat, share recipes, and use the comment section as an open thread. Here's what we've been reading/watching/listening around the office today.
---
Pop-Tarts and cheese
Like Wendy's and Little Debbie, Pop-Tarts appears to have an engaged social media person who enjoys interacting with the brand's followers. Lately, the Twitter account @PopTartsUS has been receiving some unconventional serving suggestions after an Iowa college student suggested melting cheese on a Pop-Tart a few months ago.
G/O Media may get a commission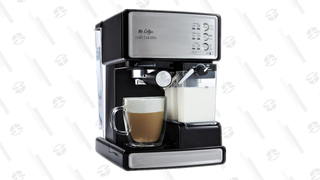 36% Off
Mr. Coffee Espresso And Cappuccino Machine
Now the account receives shots like Pop-Tarts augmented with Old Bay seasoning and ranch dressing.
I recently took a road-trip vacation and, as is custom, allowed the kids Pop-Tarts on the road (I don't let them in the house, otherwise I'll eat them all). My go-to is the classic strawberry with the red and green sprinkles. I think I was in college before I realized that Pop-Tarts were actually supposed to go in the toaster. Even raw, they were delicious just on their own. So I know you guys are just having fun, but still—try to keep the Pop-Tarts away from American cheese and condiments. They're too good to waste in this manner. [Gwen Ihnat]
---
Florence + The Machine's High As Hope
Oh do I love me some Florence + The Machine. Florence Welch's sound is haunted, haunting, dramatic, big. As Katie Rife points out for AV Club, the new album isn't groundbreaking, sonically, but it's a guaranteed win for fans like me who don't need more innovation than Welch's signature sound. "South London Forever" has been on repeat in my car, where I sing along. Loudly and poorly. [Kate Bernot]
Note: AV Club, like The Takeout, is owned by Univision Communications.