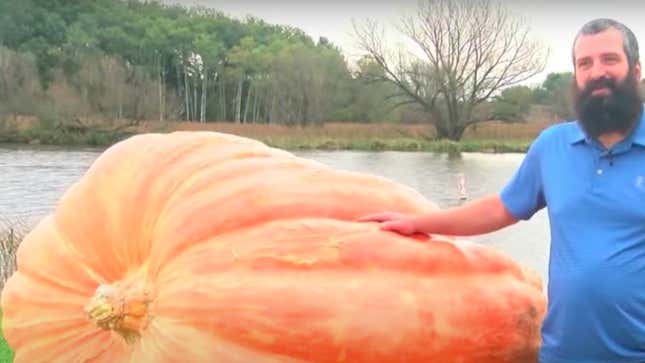 Giant pumpkin growing is no joke. Dedicated growers spend countless hours cultivating their robust crops, fending off would-be thieves, and developing secret methods to grow their fruit and veg babies bigger and better than ever. So you can imagine the anguish of one Wisconsin farmer who nearly broke a record with his two-ton pumpkin—only to have it disqualified from competition due to a teeny, tiny crack.
Milwaukee news source WTMJ reports that Mike Schmit of Markesan, Winconsin, has been growing giant pumpkins for years, but this year marks the first time one of his gorgeous gourds surpassed the 2,500-pound mark. To be exact, his pumpkin weighed in at 2,520 pounds, making it the heaviest pumpkin on record in the U.S. this year. (For context, the largest pumpkin ever recorded in the U.S. weighed in at 2,528 pounds.) Unfortunately, as WTMJ explains, Schmit's beloved gourd was disqualified due to a "fingernail-sized crack" in the exterior of the pumpkin.
To me, a layperson and notorious idiot, a fingernail-sized crack seems like the price of doing business. Giant vegetables are exposed to the elements, hauled around in trucks, and posed for endless photo ops. Cracks seem inevitable. Unfortunately, this particular crack is believed to be a result of internal pressure, largely because of the pumpkin's awkward, oblong shape pictured in the photo above.
The disqualification was devastating for a number of reasons. Namely, had the pumpkin been allowed to compete, it could have earned Schmit a $22,680 prize. (The annual Safeway World Championship Pumpkin Weigh-Off offers a $9-per-pound prize to the annual winner.) Despite the bummer outcome, Schmit's staying strong.
"It happens. There's no crying in pumpkin growing," he told WTMJ-TV. "I know I can do it again, so we just gotta look forward to the future."