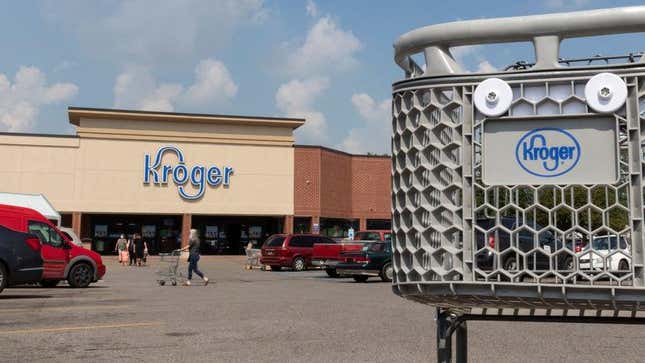 The contested multi-billion-dollar merger between Kroger and Albertsons is ongoing, and it's been under the Federal Trade Commission's scrutiny from the start, but the two grocery chains are making calculated sacrifices to close this deal. In an effort to appease the FTC, Kroger and Albertsons will sell off a collective 413 stores and other assets for about $1.9 billion, The Associated Press reports.

How To Dispose Of Cooking Grease The Easy Way After Frying
The proposed Kroger-Albertsons merger, explained
Kroger and Albertsons are two of the largest supermarket brands in the country, so when it was announced in October 2022 that Kroger would purchase Albertsons for $24.6 billion to form one massive conglomerate, both the American public and the federal government took notice. The main concern about the joining of these two grocery behemoths is that it would create a grocery monopoly, one that could, in theory, lead to higher prices for consumers because of reduced competition. Kroger currently has around 2,700 locations nationwide, and Albertsons has 2,300, which means combining the two would give a single company control over approximately 5,000 grocery stores in the U.S.
To ease these concerns, Kroger promised to reinvest half a billion dollars from the merger into cost-saving measures for customers, and both companies made plans to sell off some locations. However, Albertsons hasn't always divested assets in the most above-board way: In 2015, the grocery chain merged with Safeway and agreed to divest 168 locations as part of the deal. However, those locations were sold to a smaller grocery chain that went bankrupt less than a year later, and Albertsons wasted no time in re-acquiring many of the same stores it had sold.
Now, Albertsons and Kroger are selling a collective 413 stores, including the entirety of the Mariano's and Carrs brands, to C&S Wholesale Grocers. A number of private brands are also being sold off by the merging grocers, including Open Nature, Waterfront Bistro, Debi Lilly Design, Primo Taglio, and ReadyMeals. You might not know the name "C&S Wholesale," but it's the company that owns Grand Union grocery stores and the Piggly Wiggly franchise, and it operates corporate-owned stores in the Midwest and the Carolinas.
Although the $1.9 billion sale sounds massive, it's all according to plan for Kroger and Albertsons. If letting go of hundreds of stores and some lucrative private labels isn't enough to get the FTC's green light, Kroger might sell an additional 237 stores to C&S—that's how bad these companies want to be together. Whether any of this will be enough to persuade the FTC that the merger doesn't amount to a monopoly remains to be seen.