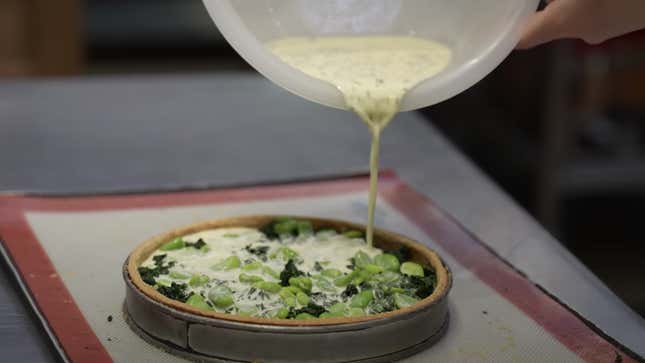 One of the many reasons I wish I had been born into royalty: I want to eat like a king every day. I dream of a beautiful naked man dangling grapes into my mouth while I recline under a palm tree on a private island. I envision my private chef (also a beautiful naked man) preparing sushi topped with caviar and a foie gras mousse for dessert. On my chef's days off (I'm an absolute delight to work for and give my employees paid time off), I'd simply order the world's most expensive grilled cheese. Clearly, I've thought about this a lot. So you can imagine my surprise to learn that, apparently, real-life kings aren't eating so extravagantly.
Dr. Pepper Strawberries & Cream Is Tearing Us Apart
The British Royal Family has released the recipe for the official dish of King Charles III's coronation: a rather simple spinach and cheese quiche. I guess the king's preference for all things milquetoast shouldn't surprise me.
Simplicity aside, the coronation quiche is raising all sorts of questions. For one, why does the recipe call for broad beans (or as we call them in the U.S., fava beans)? Just because Brits like to put beans on everything doesn't mean they belong in everything. The Guardian also pondered why the palace decided to call for lard in the quiche's crust as opposed to butter. As lard is derived from pork, a number of Jews and Muslims cannot eat it.
One Twitter user called the recipe's sparse amounts of salt, pepper, and tarragon "a depressing attempt at seasoning," while British writer Emily Cooper wondered why the recipe even calls for tarragon in the first place. Overall, the reaction to the royal quiche seems to be a collective huh?
It's worth noting that the coronation quiche is coming up behind one tough act to follow: coronation chicken. Le Cordon Bleu London created the curry-cream chicken salad back in 1953 for the coronation of the late Queen Elizabeth II, and it has remained a staple in British culture ever since. But just like its successor, coronation chicken is a bit of a lightning rod. The debate over whether or not the recipe should include raisins seems to be more divisive than Brexit. Will King Charles' quiche be able to weather the initial storm and have the staying power of his mother's chicken salad?
I'm going to go out on a limb and say yes. Coronation quiche will live on, but probably not in its original form. Just like coronation chicken, the recipe will evolve according to people's tastes. I foresee a future where Brits frequently enjoy a version of the quiche without fava beans—and hopefully one with a little more seasoning.