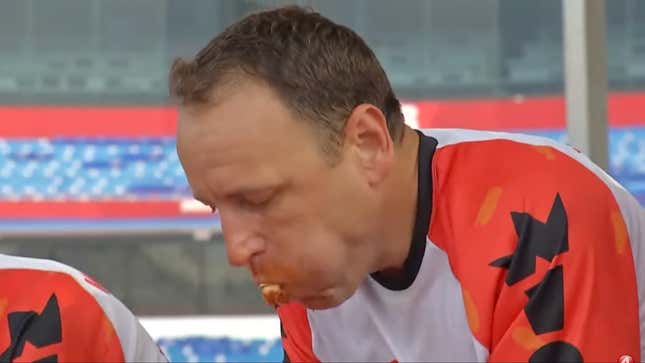 Joey Chestnut is an unstoppable force of nature. The guy can wolf down hot dogs in a superhuman fashion, unfazed at what's likely to come after eating record-setting amounts (and then breaking those records himself). You'd think that someone who is constantly at the top of his game couldn't come close to losing, but during last weekend's Buffalo wing eating contest at the National Buffalo Wing Festival, Chestnut was unexpectedly far surpassed by a new champion, Fox News reports.
How To Dispose Of Cooking Grease The Easy Way After Frying
Even though he didn't win, Chestnut still plowed down a vulgar amount of Buffalo wings: He managed to strip the meat off of 240 flappers in 12 minutes. I'm lucky if I can finish 10 in that amount of time. When you can describe your eating prowess in terms of hundreds, I'd still say that's a stunning feat.
The winner of the Buffalo wing eating contest men's division
The winner this year was an Australian man named James Webb, who managed to, get this, eat 276 Buffalo wings in 12 minutes. That's a decisive victory, and one that Webb himself was shocked by.
"I still don't believe it," he told Fox News Digital. "It was mental. Even when George Shea [co-founder of Major League Eating] raised my arm, I still couldn't believe it. I didn't know what to do."
He later added, "The fact I beat Joey, even saying it out loud. It blows my mind."
The winner of the Buffalo wing eating contest women's division
Reigning Nathan's Famous Hot Dog Eating Champion Miki Sudo took first place by crushing 246 wings in 12 minutes. She's been a main contender on the professional eating circuit since her Nathan's debut, having won at nine of her past 10 appearances (with a break during her pregnancy). She even ate six more wings than Chestnut did this year.
Buffalo wings are not Joey Chestnut's strong suit
We all have our Achilles' heel, and Buffalo wings are certainly one for Chestnut. Even though the man can inhale hot dogs quite literally as no one else on earth can, he's lost the wing eating contest five years in a row (including this year). And in this case, the victory by Webb sounds like it was a surprise even to himself, much less the margin by which he won.
Just like in any other competitive activity, you can never discount the possibility of a dark horse coming out of nowhere for an unexpected win. Or in this case, unexpected wings.