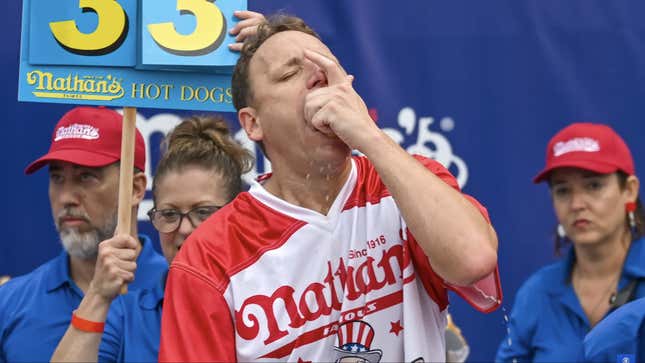 Joey Chestnut and Miki Sudo are the wieners and reigning champion of the 2023 Nathan's Famous Hot Dog Eating Contest, held annually on the Fourth of July at Coney Island. While Chestnut didn't surpass his personal best of 76 hot dogs (holy shit) in 2021, he still scarfed down a commendable and still unfathomable 62 hot dogs in 10 minutes. Sudo, meanwhile, took down 39.5 dogs in the same amount of time, nabbing her ninth title in the past 10 years. Let's take a minute to appreciate these champions' physical, mental, and gastrointestinal feats.
How To Dispose Of Cooking Grease The Easy Way After Frying
Joey Chestnut's record at Nathan's Hot Dog Eating Contest
Chestnut has won 16 out of the past 17 years of Nathan's Independence Day hot-dog-eating extravaganzas. His only loss since 2007 (when he first wrested the crown from Takeru Kobayashi) came in 2015, when competitor Matt Stonie edged him out by two hot dogs, winning with 62 over Chestnut's 60.
The lowest amount of hot dogs it took Chestnut to win the title was 54 dogs in 2010, but otherwise the average number throughout his 16 wins is just shy of 67 dogs per battle (66.875, to be exact). And for the past 17 years, including the year of his loss to Stonie, the total number of hot dogs he has consumed at the Nathan's Famous Hot Dog Eating Contest comes out to an astonishing 1,131.
Miki Sudo's record at Nathan's Hot Dog Eating Contest
Miki Sudo has had a similarly impressive winning streak since her first victory in 2014. She has won nine of the past 10 contests, and champion Michelle Lesco's victory in 2021 was not Sudo's loss; Sudo skipped the competition because she was pregnant at the time. (I guess she figured her developing child might not appreciate an influx of 40 hot dogs.)
Sudo's average takedown over her winning career is 39 hot dogs (39.1, to be exact) per competition, with a total of 349 over her entire Nathan's hot dog eating competition history since 2014. Her career best was in 2020, when she took down 48.5 hot dogs—a notable leap from 2019, when she consumed 31.
What a hot dog eating contest does to the body
It's obvious that eating an exorbitant amount of anything will challenge your body. Last year we asked competitive eater Pat Bartoletti about what it takes to prepare for one of these contests, and he revealed that, just like for any athlete, there's quite a bit of prep involved, both mentally and physically.
Chestnut himself has said that the effects of eating that many hot dogs can be pretty gnarly. Aside from the frequent trips to the bathroom after the contest, there is one unexpected side effect of all that meat: He sweats it out.
In an interview with Insider in 2021, he said that his sweat even feels greasy and sticky after the contest, and that some people around him swear that they can even smell the hot dog scent emanating from his body. That's certainly a hard-won cologne.
The contest is always held outdoors, and while this year's event was delayed for two hours due to storms and lightning, it eventually kicked off a few hours late and appeared to be smooth sailing from there. This is unlike the 2022 competition, when an animal rights protestor stormed the stage and Chestnut put him in a headlock mid-chew, which he later said he regretted. Chestnut said he was acting on an involuntary feeling of panic upon seeing the protestor's black Darth Vader mask, moving quickly because he didn't know what to expect.
While we realize that the Nathan's Famous Hot Dog Eating Contest is a ridiculous spectacle, one that some argue promotes over-the-top displays of gluttony, it's hard not to be fascinated by it. The competition has been going strong since its inception, and tuning in on the Fourth of July has now become as much of a national holiday pastime as grilling hot dogs themselves.