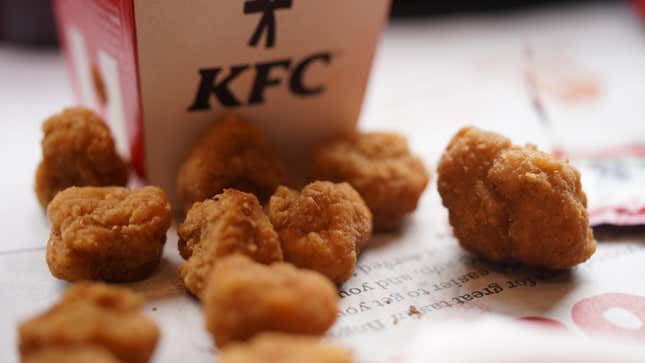 It's hard to know when to take internet rumors seriously. Sometimes they can start with something as vague as a screenshot, as in the case of the Choco Taco's demise, or whispers might begin on social media platforms such as TikTok, where they spread like wildfire. The Fast Food Post recently reported on an anonymous tip the publication received from an insider claiming that KFC's popcorn chicken will be discontinued soon and replaced wholesale with its new chicken nugget product.
How To Dispose Of Cooking Grease The Easy Way After Frying
There are some Reddit threads that appear to substantiate this claim, such as this one from about a month ago, and this one, from just over two weeks ago. Some users said they'd had difficulty ordering popcorn chicken (in that it was discontinued at their local KFC), while a user claiming to be a KFC manager in Florida said in one thread, "Yes, all locations are removing the popcorn chicken by Jan. 3rd and will be replacing it with all white meat chicken nuggets cooked in original recipe."
It's important to note that KFC hasn't added any new nuggets to its online menu as of yet. And though tenders are advertised, popcorn chicken is not listed as an a la carte item. In fact, there's no mention of popcorn chicken on the menu at all.
It seems odd that KFC would phase out an integral component of its popular Famous Bowls in favor of a product that could possibly change its reputation. Though this might just be semantics, calling them "nuggets" seems to indicate that they'd be bigger than popcorn chicken pieces as well, which makes me wonder if the replacement chicken would be unwieldy to eat.
So is KFC discontinuing popcorn chicken or not?
A KFC representative confirmed to The Takeout that the chicken nuggets are still being tested right now in the Charlotte, North Carolina area.
"Many of the original stories were inaccurate and we've reached out to reflect updated information which is that KFC is currently testing nuggets in Charlotte," read the email from KFC.
"The Reddit thread is speculation," they added.
Note that this isn't a definitive denial of the rumors, meaning there's still a possibility that popcorn chicken will be wholly replaced with a freshly hand breaded nugget product at some point.
Chicken nuggets are, of course, hugely popular. Take Popeyes' nuggets, for example, which landed on the permanent menu with huge marketing fanfare. KFC hasn't fully embraced nuggets yet, but their addition to the permanent menu feels all but inevitable, much like the addition of a chicken sandwich did in 2021.
KFC "evaluates customer feedback before determining a nationwide rollout of a new item or menu change," a representative confirmed. So if these nuggets do in fact get the green light—which, to be clear, hasn't happened yet—then your Famous Bowls might look a little different in the coming months. And we'll be saying goodbye to yet another fast food staple.