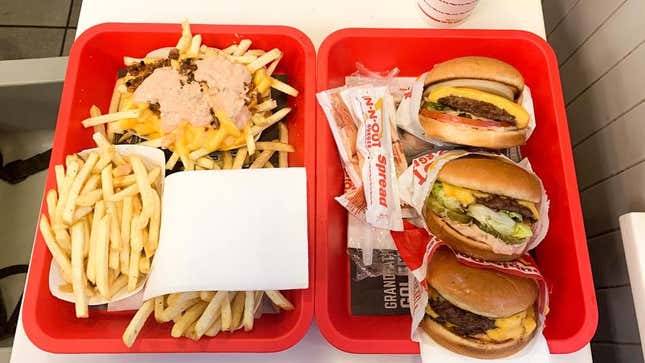 Brace yourself, because I'm about to say something way out of line: I've never had an In-N-Out burger. No, I'm not a vegetarian, nor am I a health nut. For me—and presumably most other people who have never eaten there—it's purely a matter of logistics. I've lived on the east coast my entire life; the farthest west I've ever traveled was to San Antonio for a high school journalism conference. Apparently, San Antonio has three In-N-Out locations, but they're a bit far from where my 17-year-old self would've been allowed to roam unsupervised. At this point, the closest I've ever gotten to In-N-Out Burger was when someone found an intact Double-Double on a New York City sidewalk in 2019. But that might soon change.
All the Best Finds at the Sweets & Snacks Expo
In-N-Out's owner has previously stated that in an effort to maintain both its quality and uniqueness, the chain had no plans to expand east of Texas. But now, the tide appears to be turning, as In-N-Out has announced plans to expand eastward into Tennessee. In a press release, the company stated its plans to open not just restaurants, but "an Eastern territory office" in the state.
The office will be in Franklin, Tennessee, just outside of Nashville. And fans of animal-style burgers and fries aren't the only people who are excited about it: In-N-Out's plan to invest over $125 million in its new office is expected to create 277 jobs, which is exciting for Tennessee's government officials.
"We thank In-N-Out for planting roots in Williamson County and creating new jobs for Tennesseans," the state's governor, Bill Lee, said in a press release.
Why In-N-Out is coming to Tennessee
Tennessee may seem like a slightly random place for In-N-Out to expand, but there's a logistical reason: proximity to the chain's Texas warehouse. The company's ethos has always been one of quality over quantity, as Forbes detailed in 2018 profile of the company's owner, Lynsi Snyder. In-N-Out doesn't franchise and intentionally maintains a limited menu that rarely changes, both of which allow for greater control of the product and thus the customer experience—think of it as the Apple of fast food chains. With the company's warehouse just a few states away from its the new office in Franklin, In-N-Out can expand while staying true to its local, family-owned culture.
The office and first restaurant location aren't expected to open until 2026, so if you're a Tenneseean who needs your In-N-Out fix right now, you'll still have to go on a road trip to Texas. And if you're not a Tenneseean, don't think that you're SOL. Snyder hinted to the Associated Press that other states, presumably in the southeast, could be getting In-N-Out soon, too.