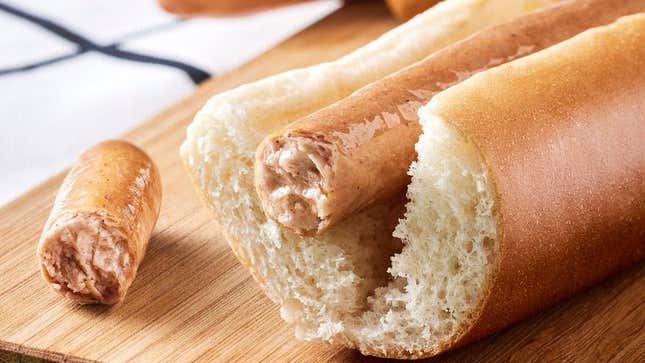 Plant-based meat might be having its ups and downs lately, but that doesn't mean large companies have to give up on working toward a less carnivorous future. IKEA, the furniture store known for its Swedish meatball plate and occasional pizza collaboration, has created a new vegan hot dog to serve at its store cafeterias. Unlike the previous iteration, this one has been designed to actually look and taste like its meaty counterpart.
How To Dispose Of Cooking Grease The Easy Way After Frying
IKEA's new vegan hot dog, explained
IKEA has spent some time working on this new vegan hot dog's texture, especially its casing. One of the best characteristics of any classic meaty hot dog is a natural casing, which provides a really satisfying snap when you bite into it. The press release announcing the development of the dog says that this sensory experience was of particular focus to IKEA's team.
"We have spent much time in the development process to give the best experience for our customers," Helen von Reis, food manager at IKEA of Sweden, said in the release. "With a great taste, texture, and a snap when you bite it, the plant-based hot dog is a perfect alternative to a traditional iconic hot dog."
Beyond the casing, the dog is described as containing "rice protein, onion, apple, salt, pepper, and smokiness to give the plant-based hot dog a characteristic sausage flavour."
IKEA is committed to a more plant-based future
IKEA has already committed itself to an 80% reduction in its meat-based products by 2025, and this new vegan hot dog fits right into that schedule. The retailer already has a lot of vegan options on the menu, such as a plant-based counterpart to its popular meatballs, along with the current veggie dog that's made of kale, lentils, quinoa, and wheat protein. It should be said that the current dog doesn't really look, taste, or feel like a traditional hot dog—it's more like a tube of vegetables bundled together. Not bad, but not something you want to load up with mustard and sport peppers either.
The company also sells seaweed pearls, a type of plant-based caviar that serves as a sort of stand-in for the tobiko (flying fish roe) you get on some sushi rolls at restaurants.
Where to get IKEA's new plant-based hot dog
The new vegan dog will be released in Europe later this summer, with a rollout in the United States in 2024, VegNews reports. Judging by the preview image, the dog does look a lot like a regular meaty hot dog, and certainly more than its predecessor did—it even has that shiny, fatty glisten to it. If it tastes like meat and is offered at IKEA's affordable prices, maybe a few customers will think twice about reaching for the animal version by default.