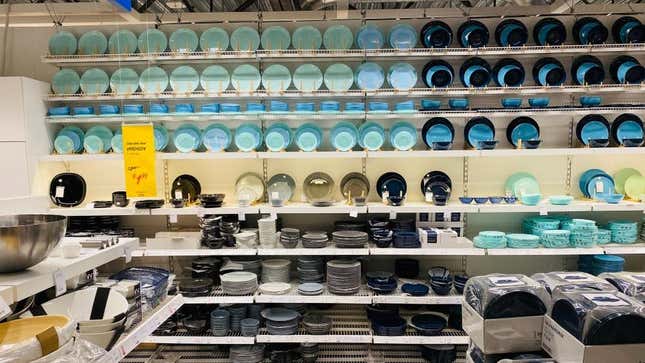 IKEA is celebrating its 80th birthday this year, and it has spent decades building its reputation as a big, sprawling everything store where shoppers can fill their daily steps quota. But in some places around the world, it has been opening small-format stores to better suit an urban environment. These shops feature a pared-down (but still substantial) collection of housewares, some furniture displays, and a cafe. One such store is opening this week in San Francisco.

How To Dispose Of Cooking Grease The Easy Way After Frying
The small-format IKEAS are aimed at urban shoppers who can't easily access its big stores or don't have time to meander past the ball room and through rows of garden planters. I recently stopped in the IKEA City store in downtown Toronto for two reasons: I wanted to see what a smaller store looked like, and I needed an insulated cooler bag to transfer groceries from my Airbnb refrigerator back home to Michigan.

As soon as I rode up the escalator, a sign caught my eye: "Starting University? Say less." Underneath the sign was a set of big plastic tubs, dubbed University Starter Boxes, filled with all kinds of kitchen gear for a bundled price of $99 Canadian (about $73 USD). The display made sense, because this Toronto store is within walking distance of both the University of Toronto and Toronto Metropolitan University campuses, the latter of which was called Ryerson until it changed its name last year.
These Toronto schools have residence halls and meal plans, and some university townhouses also have kitchens. But my friends tell me that, as in the U.S., many Canadian college students opt to move into rental apartments and houses during their college years. So the kits are the equivalent of what IKEA thinks students should start out with. They're getting noticed on TikTok, which is a surefire way for word to spread.
Here are some of the things that the kits contain:
Cooking Gear: There's a five-piece cookware set, made up of three pots and two lids, along with a frying pan.
Storage: A 17-piece set of plastic storage boxes with lids, in many different sizes. I own this set, and it's handy for fruits and vegetables that you buy at the farmers market. You can also use them for dry ingredients like cereal.
Dinnerware: You get two stoneware mugs, dinner plates, side plates, and bowls. There's also a 16-piece cutlery set and a couple of drinking glasses.
Gadgets: IKEA gives you a chopping board, a dish brush, a sponge, cork trivet, a soap dispenser, and one of those big blue storage bags like the tote you carry around IKEA while you shop. I own the bag, and I use it all the time—plus, you get the big lidded tub that holds the entire kit.
I spoke with a recent college graduate, who told me the kit would have been perfect for her junior year, when she was living on her own for the first time. By the time senior year rolled around, she and her roommates were able to pool items and use gifts from friends and parents. As a first-year student, particularly if they're on a meal plan, the kit might have more items than necessary, and depending on the living arrangements, it might be tough to find a place to store the big tub.
Ultimately, though, these kits have uses beyond a university campus. When I posted a photo of the kit on Facebook, I heard from friends who are involved in re-settling refugees in the United States, as well as helping those who have lost their homes to storms and wildfires. They said the kits would be a perfect, simplifying option for people who need to get on their feet.

The University Starter Box isn't sold as a bundle in the U.S. yet, but you could easily take IKEA's list and assemble your own. And if you drop into the IKEA City store in Toronto, don't miss the self-service cafe. You can enjoy some meatballs (or plant balls) before you head down the escalator with your box.