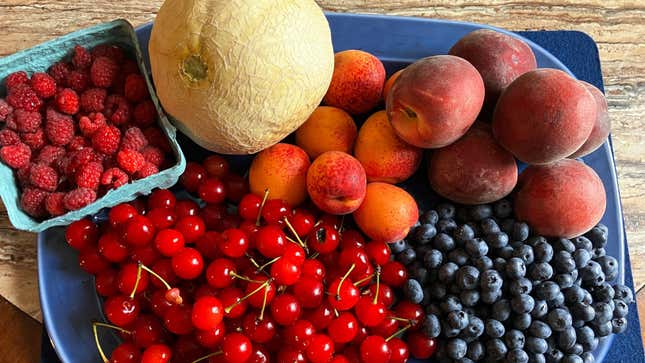 Fruit is flooding into farmer's markets around the country. Walk down the aisles, and depending on your location, you'll see raspberries, blueberries, gooseberries, peaches, nectarines, and those very early apples. You might be tempted to sweep it all into your tote bags and take them home. But what will you do with it next? It helps to have a plan.
How To Dispose Of Cooking Grease The Easy Way After Frying
I spent a good part of a recent Saturday afternoon prepping the fruit I bought at the Ann Arbor Farmer's Market. I broke down a cantaloupe, pitted cherries, roasted apricots, and divided up everything else. When I was finished, I had stained, sticky fingers, but my fridge was fully stocked with delicious produce that I'll actually get to use to its fullest before it goes bad.
My fruit purchasing philosophy is a three-part process: eat, cook, freeze. Before I buy any fruit, I decide which category the tempting morsels will fall into. This strategy saves me from buying things that are appealing, but which I am unlikely to use up in time. For instance, the market had red and black currants last week, but I knew they would be too fiddly for me to work with. (Someone with more patience might make jam or shrub.)

Here are some examples of how I deploy some of the best summer fruits.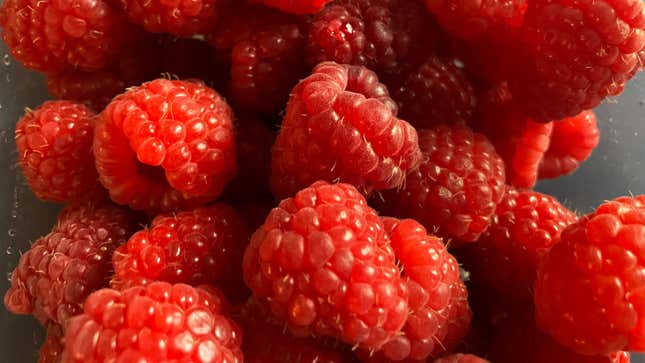 Eat them up right away
These are fruits that are so tender, fleeting, or tempting that I want to consume them ASAP. Michigan strawberries and our early raspberries fall under this heading. Sadly, the strawberry season is finished; it only lasted about three weeks this year. I ate strawberries every day when they were fresh, and the very last few tiny ones were the best, probably because they got full attention from the sun.
Now, raspberry season is underway, with fruits that are so fragile they can disintegrate right in the paper carton. I ate a half pint in two sittings, topped with plain yogurt and later with a little Jeni's Texas Sheet Cake ice cream. (Chocolate and raspberry is an unbeatable combination.) There are ways to cook with these fruits, of course, but they're virtually unbeatable in their fresh-picked form.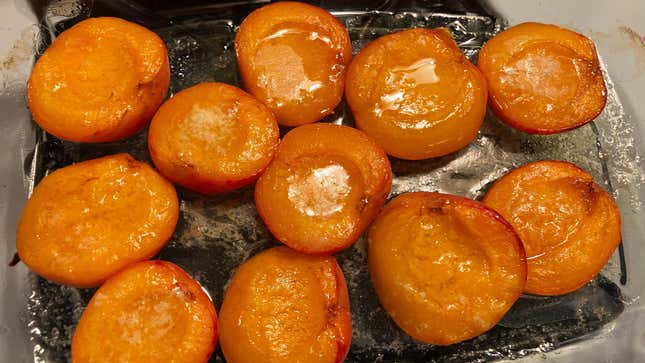 Cook with them
These are fruits you'll do something with besides eating them out of hand or bowl. I have some early apples that will become sauce. I bought tart cherries for a crisp. Another quart of dark cherries is getting turned into a clafoutis. Blueberries have already gone into corn muffins. I spotted apricots at the market and knew it was time for roasted apricots (a super simple process that yields an almost custard-like result).

If you're going to make jam, be sure that you scout out a nearby resource for jars, or else order them in advance online. Once the jam process gets underway, you don't want to be scrambling for more materials. One alternative is freezer jam, which is my preferred way to cook preserves these days.
Freeze them
Here's a way to prolong the summer and fall fruit bounty long beyond peak season, one that works particularly well with blueberries. Farmers and stores in the Ann Arbor area sell 5-lb. boxes of blueberries, which can be a better value than pints and quarts. These big boxes are running around $30 right now, but I once had a Groupon for a farm offering 5 lbs. for $10. The line at the farm was like the cars in Iowa at the end of Field of Dreams: Everybody bought that Groupon.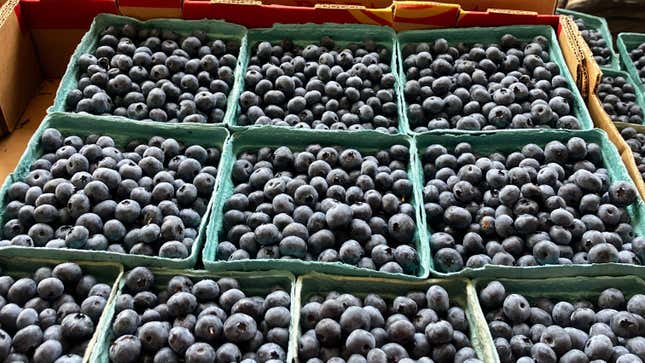 When I buy blueberries, I separate some out to eat fresh, and the rest to freeze for smoothies or future baking. To freeze, lay the blueberries on a small tray or baking sheet in a single layer and pop it in the freezer for a couple hours; this will keep them from sticking together. Once the berries are solid, transfer them to a zip-top bag or plastic storage container and freeze.
I use a similar method for pitted cherries and raspberries (since the fall berries come in much firmer). You can slice up peaches, pears, and apples and freeze those, too. Depending on how juicy your fruits are, you might want to pre-portion them in the amount you need for each smoothie or baking project, since storing them all together might fuse them into one mass that is hard to break apart into individual slices without making a mess.
Lastly, if you haven't thought ahead and you're left with some overripe fruit, do not give up on it so easily. My mother used to whirl berries past their prime through the blender and use them for a simple sauce that she cooked down with a little sugar. I've squished up less-than-perfect berries and mixed them with a couple of tablespoons of vinegar to make a salad dressing. As long as the fruit isn't moldy or too sour, consider it an opportunity to experiment.