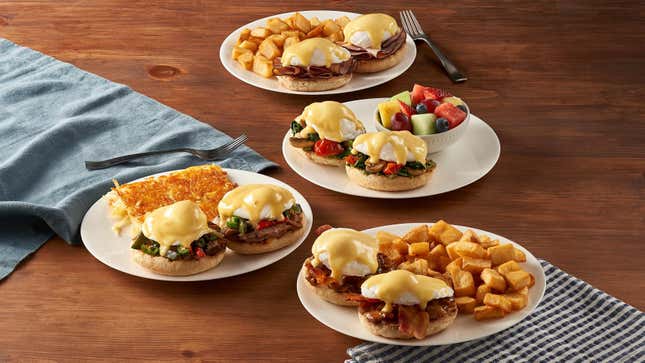 The pandemic brought about a digital brand boom for many major restaurant chains, with spinoff dining concepts existing solely within Uber Eats and other food delivery apps. As COVID's impact on in-person dining finally begins to subside and diners' restaurant habits evolve, many restaurants are refocusing on their core business and de-emphasizing ghost kitchen operations. IHOP, meanwhile, is doing the exact opposite.

How To Dispose Of Cooking Grease The Easy Way After Frying
Rather than axing the virtual concepts that carried business through lockdowns and dining room closures, IHOP is choosing this moment to expand its portfolio of virtual brands, Restaurant Dive reports. Given the level of investment in this business model, IHOP might be one of the few brands that can juggle a portfolio of virtual business without taking away from its core success.
IHOP currently has four virtual brands and plans to add two more to its portfolio very soon. The current lineup includes TenderFix, Pardon My Cheesesteak, Thrilled Cheese, and Super Mega Dilla. The latter two were launched in 2022, and the former two debuted earlier this year. IHOP doesn't own these brands outright, but rather profits by using IHOP kitchens to fulfill orders for each brand.
TenderFix, Thrilled Cheese, and Super Mega Dilla are all owned by Nextbite. Interestingly, though, Pardon My Cheesesteak is owned by Virtual Dining Concepts, which is currently in the middle of some major legal beef with YouTube megastar MrBeast. This battle is, of course, separate from its virtual business with IHOP, and looks to have had no impact on the house of pancakes.
"IHOP remains bullish on virtual brands, which allow us to leverage our scale and kitchen space to add incremental sales," said John Peyton, CEO of IHOP parent company Dine Brands, on a recent earnings call. "Our target windows are dinner and late night hours, and we have several exciting brands coming very soon."
Other restaurants like Wendy's, Red Robin, and Applebee's all spun off original virtual brands rather than acting as host kitchen to others—yet they have all begun to move away from those virtual businesses. Wendy's began investing in delivery-only locations at the start of the pandemic, announcing in 2021 that it had plans to open up 700 ghost kitchens by 2025. However, by August 2022, the company decided to change course.

"We do not envision that delivery kitchens will be a large element of our growth trajectory moving forward," said Wendy's CEO Todd Penegor on an earnings call in March. "We believe our efforts are better spent driving more access to the Wendy's brand through our global next-gen design." (Read more about that design here.)

Similarly, despite noted success with its partnership with Donatos pizza, Red Robin also chose to put the brakes on expanding that virtual partnership in favor of focusing on its core business, reported Nation's Restaurant News earlier this year. Red Robin's CEO assured that the further expansion will still happen, but that the timeframe is unknown.

Applebee's, owned by the same parent company as IHOP, also chose to take a step back from its virtual brand, Cosmic Wings. The virtual chicken wing-focused concept was launched in February of 2021, but Applebee's president Tony Moralejo told Restaurant Business that both franchisees and the company as a whole would be "better off if we focus on our core menus, our core equities."

So why is more ghost kitchen traffic good for IHOP, but not so good for others? The surprisingly simple answer is that IHOP thrives in the mornings and isn't so busy at night. It only makes sense to let other brands occupy the kitchens during times that tend to lull for the restaurant itself.

Peyton explained to Restaurant Dive that IHOP's virtual business complements its existing model. This means IHOP can focus on delivery and carryout items like cheesesteaks and quesadillas that are more popular during evening hours without needing additional staff.

IHOP will likely always be the house of pancakes, but it looks like its doors will always be open to virtual partners as well. Just like fresh college grads living in the big city, the more roommates you have, the cheaper things become for everyone. Let's just hope things aren't getting too crowded in there.