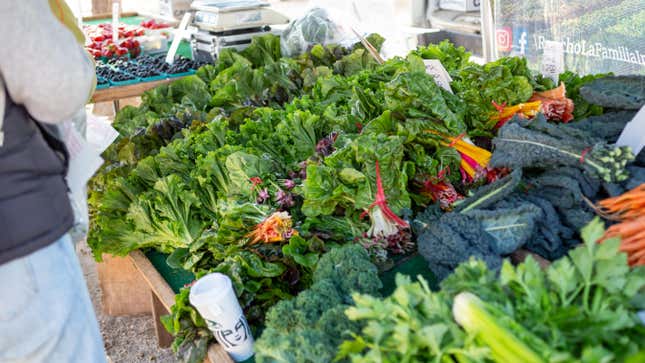 I have long assumed that every state had an official crowning state food. Because isn't that just... a thing that lawmakers like to decide on? Today's New York Times report has opened my eyes to the fact that when it comes to choosing a state food, some areas of the country wallow in uncertainty. I'm taken aback to learn, for example, that California doesn't have any state food to speak of—despite being the land of avocados, almonds, pistachios, BBQ chicken pizza, and In-N-Out Burger. Wild.
Dr. Pepper Strawberries & Cream Is Tearing Us Apart
State foods, explained
Speaking of almonds and pistachios, California does have official state nuts, which are almonds, walnuts, pistachios, and pecans, but there's no California-affiliated dish listed as an official "state food," and it's one of many states lacking one.
Colorado has absolutely zero state foods. No state vegetable, fruit, snack, favorite type of omelet, nothing. Neither does Alaska, Arizona, Hawaii, Iowa, Michigan, Mississippi, Montana, Nebraska, Nevada, Pennsylvania, Virginia, and Wyoming. Where's your state pride, everybody? Don't you want to be cool like South Carolina and designate an official State Hospitality Beverage (Tea)?
Now, aside from the killjoys mentioned above, not every state has an official state food, which is its own category. Only a few that have those. For example, the official state dish of Texas is chili (figures), and gumbo takes that honor in Louisiana. Even then, the classifications vary; chili is a state dish, but gumbo is the state cuisine. (For the purpose of sheer vibes, I'm lumping those three things together.)
Things get even more granular after that. Many U.S. states have named official state drinks, snacks, desserts, pies—it's all over the place. The state appetizer of Rhode Island is calamari, in case you were wondering.
Why don't all states have official state foods?
Anointing state foods is not always a straightforward process. It's not like lawmakers band together, rattle off foods their state is known for, then more or less agree on one. The pipeline can get clogged by disinterested lawmakers, heated discussions on culture and identity, and good ol' popular opinion.
Popular Substack newsletter Snack Stack did a deep dive on the subject of how state foods become official, and it illustrates just how complicated the process can get, for seemingly no reason at all. The overview fills me with childish fascination.
Take, for example, Wisconsin, the largest grower of cranberries in the country, and its failure to designate its state muffin as cranberry. The effort began as a suggestion by students at an elementary school in 1988. In a cute display of civic duty, the kids mobilized to send 150 letters to politicians and cranberry producers, and even visited the state capital, Madison, to lobby for the cranberry muffin. But the bill failed to pass.
One senator started being an asshole about it, sarcastically suggesting amendments to the bill such as naming "the ragamuffin as the state's official child muffin." This snarky shit came at the end of the day when everybody wanted to go home, so supporters simply gave up. There was even a pitch to simplify the bill to declare cranberries the official state fruit, but that also failed. (Eventually, thanks to a different group of schoolchildren, the cranberry became Wisconsin's official state fruit in 2003.)
That's the simplest answer for why not every state has an official state food: It has to be lobbied for, hard. And when you're dealing with industries that contribute significantly to the state's economy, those decisions can quickly turn political. 
Knowing the state foods is certainly a fun bit of trivia, but it's also a peek at how the grinding gears of government can complicate simple matters beyond a popular consensus. That's too bad, considering symbols like state foods can help foster a sense of identity and even state pride. But if there's anything people like more than food, apparently it's arguing about it.