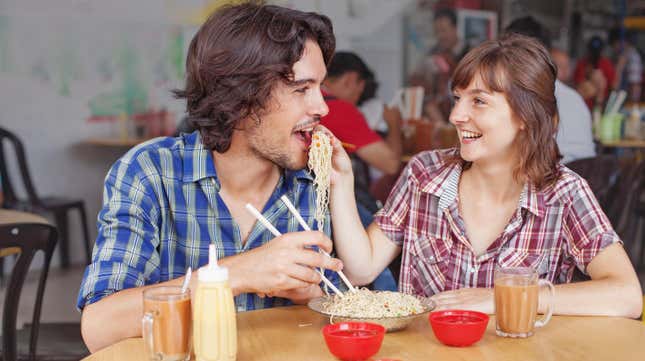 Inflation has hit our holidays, eating habits, and restaurant menus, and naturally, all of that has also affected date night. Yes, today's dating scene has been influenced by economic factors—very unsexy ones—but rest assured that these changes don't have to ruin your shot at love.
A 2022 survey from the website Dating.com found that 47% of respondents had held back on going on a date because they needed to save money. Yet while inflation has led some to hold back from making potential love connections, others are hitting the gas on new relationships to survive today's economy: 45% of respondents said they talked seriously with their partner about living together, despite not being ready, just in the interest of saving money.
Inflation truly has messed with people's wallets and emotions. But before you start picking out matching china patterns with that guy from Hinge you met last week, consider some easier ways to make dating a little more affordable.
Casual dining is in: It can be tempting to spend big money on fine dining to try to impress a date or spoil your significant other to show them you're serious, but the same can be achieved in a much more casual setting. The date is about great food and great company, so focus on that. Dating.com's survey showed that 67% of people have already started making their date nights simpler by going to less expensive restaurants to save money.
Eatertainment: Dates with a little activity added in are usually more fun and offer more bang for your buck. Many of these businesses have clever ways to offset the costs, like free gameplay for those who purchase a drink or discounts on food-and-games bundles. Spots like Dave & Buster's, Topgolf, Bowlero, and Puttshack often have a number of appetizer options to enjoy while you have fun, and combining food, drinks, and activities usually ends up being cheaper than traveling to a second location.
Try a meal besides dinner: Not every date has to happen at night. With breakfast you can keep things simple, advises Ramsey, a personal finance site. Order coffees, plus maybe a pastry or sandwich, and you're done. This sort of date won't cost nearly as much as a multi-course dinner menu with cocktails, and it's a low-stakes way to check whether someone new is worth further investment.
Go big on the entree: If you're going to spend big money on something during your date, make it the main course. The entree is why you're there to have a meal in the first place, so don't let the cocktails or dessert menu veer you off course.
Split the meal, not the bill: If the thought of someone asking to split the bill is a red flag, consider splitting the meal instead. Larger entrees can be enough to feed more than one person, and sharing is caring, after all. This way you get fine dining taste at half the price.
In the end, what all of these dates have in common isn't just the fact that they're less expensive. It's the fact that they take a little extra thought and effort, which is worth a lot more to certain romantics out there.
Whether you're on a first date wanting to make a good impression or you're celebrating an anniversary, these tips can help you keep the bill low while still enjoying a night out. We can't let inflation stand in the way of love, people. Or at least don't let it stand in the way of dinner, because that would be more tragic.