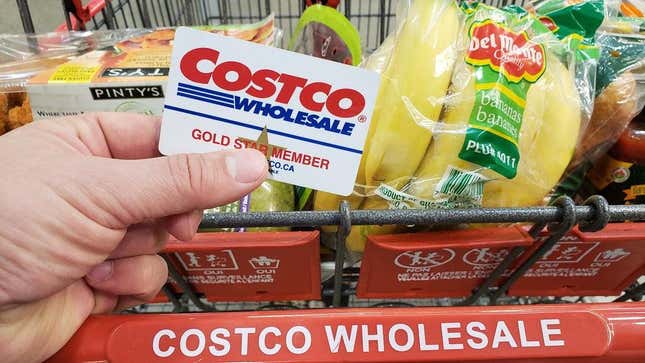 The Costco gods have spoken and have deemed many of us moochers unworthy of their spoils. Translation: Costco is cracking down on non-members using members' cards to cash in on the deals and exclusive products offered by the wholesale chain.

How To Dispose Of Cooking Grease The Easy Way After Frying
Why Costco is cracking down on membership sharing
In addition to the usual request that customers flash a membership card upon entry, Costco will now cross-check membership cards against another photo ID, such as a driver's license or state ID. The will be enforced especially in self-checkout lanes, where the company has noticed the most abuse of its existing membership policies.
"We don't feel it's right that nonmembers receive the same benefits and pricing as our members," said the company in an emailed statement to The Dallas Morning News. "As we already ask for the membership card at checkout, we are now asking to see their membership card with their photo at our self-service checkout registers."
Costco's membership costs
The grocery club's membership costs range from $60 annually for a Gold Star membership to $120 annually for an Executive membership. Here's what you get at each tier:
The Gold Star membership allows for one Household Card that can only be used by the primary member and a secondary card that can be assigned to someone over the age of 18 who lives at the same address.
The Business membership costs $60 annually and includes one Household Card, but allows for additional card holders to be added to the account for an additional $60.
The Executive membership offers all of the above benefits, plus a 2% reward on certain purchases, discounts on other Costco offerings like insurance and business services, and "extra benefits on select Costco Travel products."
So, if you don't live at the same address as a member, or you can't justify paying $60 for the exclusive privilege of buying Kirkland rotisserie chicken, does that mean Costco's deals and products are out of reach? Not exactly.
How to get around Costco's membership rules
Some rules are made to be broken, and some perks are meant to be shared, despite what larger companies like Costco and Netflix might enforce. The recent crackdown means non-members will just have to be a little more creative if they want to make purchases at Costco.
One of the simplest ways to get around the membership sharing issue is to have a current member purchase a Costco gift card (minimum $25) for whatever amount you plan to spend in-store. You do not need a membership card to use a Costco gift card.
Another way to circumvent the rules a bit is to shop Costco's website for the items you want to purchase in bulk. The brand allows non-members to shop for groceries on the website and have them delivered via Instacart. However, a 5% surcharge is added for non-members, and some exclusive members-only products are not available. Non-members can also shop Costco's pharmacy sans membership.
Finally, buddy up: On each visit to the store, Costco members can still bring up to two guests who don't have a membership themselves. Note that the Costco website warns "only Costco members may purchase items." This is where following the rules of membership-mooching etiquette is key to any shopper's success.

There are many ways to be a good Costco moocher: offering transportation to and from the store, being mindful of the member's trunk space, and offering to do some heavy lifting in and out of the car. But no matter what, the Costco membership holder must be the one to pay at the register because they have to scan their card to make the purchase. Be sure to pay them back as soon as possible.
The gates of the Costco kingdom have not been completely shut, merely reinforced for added security. Lucky for you, the wholesale club is not an impenetrable fortress. Happy bulk buying to one and all.