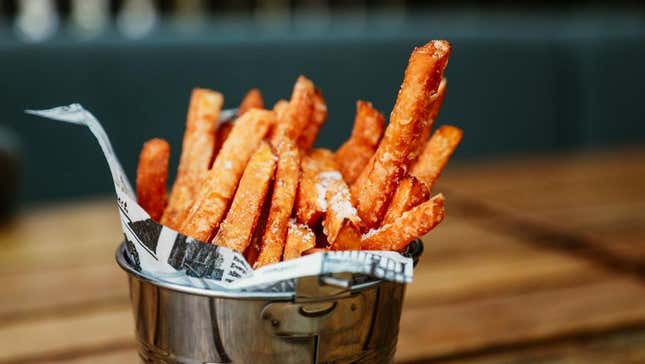 My entire life has been a rebellion against my relatively conservative Catholic parents, but there is one rule I learned from my dad that I continue to apply to my life: Always order what the restaurant is known for. I recently broke this rule and ordered pad thai from a sushi place. It was terrible. Needless to say, I relearned a lesson I had learned too many times before and vowed never to stray from the ordering norm again.
Dr. Pepper Strawberries & Cream Is Tearing Us Apart
But according to a recent New York Times Magazine article, I may be sorely missing out. Food writer Eric Kim claims that placing a high-risk order can often lead to a high reward, allowing you to discover a restaurant's more under-the-radar hits. For example, Kim went to a seafood restaurant in New Orleans and was struck by what he thought was the odd menu inclusion of citrus-glazed turnips. He bit the bullet and ordered them; to his astonishment, the vegetables outshined the restaurant's signature fish.
(This is actually a healthy way to reframe that disappointing pad thai I had a few weeks ago. I wasn't stupid for ordering noodles from a place with "sushi" in its name; I was being an edgy risk-taker!)
If you don't want to run the risk of ordering a dud that ruins your hard-earned dining out experience, try convincing your table compadres to share. I ran into this at an Italian restaurant a few months back known for its homemade pastas. Despite the ideal order being obvious, I couldn't help but stare at the listing for chicken milanese, tucked all the way in the bottom corner of the menu. I suggested to my friend that we get both pasta and the milanese and share them both. Thankfully, that was the right decision: The chicken was massive, arrived with a side salad so we weren't just carb-loading, and ended up being far more filling than pasta alone. Maybe I'm actually better at this than I thought.
But what if you can't convince your friends to share (get new ones) or you end up going with your gut and making the safe choice? If you're still hungry, order your second choice at the end of the meal, sort of like a savory dessert. Kim shares an anecdote of friends who always split an order fries at their favorite restaurant as the grand finale. I suppose I, too, do this more often than I realize. As I arrived at my local cafe to write this article, I couldn't decide whether I wanted coffee or a cookie. I went with my gut and got coffee, but as I finished the coffee I realized I still wanted the cookie, so I got it. The joys of being an adult!
So while you won't find me ordering dim sum at a taco joint, perhaps I'll be a bit more adventurous when it comes to my restaurant choices. I'd be down to try Subway's Cadbury Creme Egg melt, for starters.