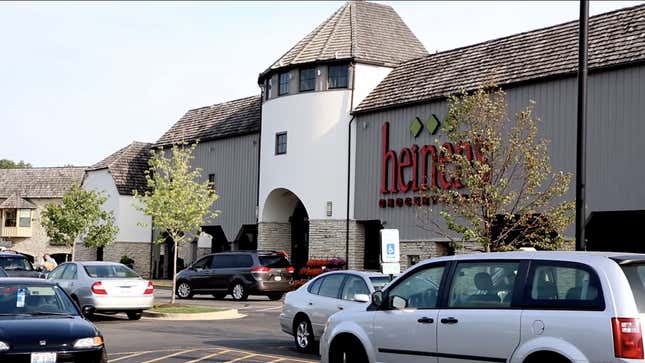 I have mixed feelings on Instacart, the third-party grocery delivery service that sends a shopper to grab your stuff for you and communicate via app. The fees can be steep, you don't always get what you order, and the company doesn't have the best record of treating its gig workers fairly. Turns out, some grocery stores don't like their relationship with Instacart either: One Ohio-based chain is ditching its relationship with the app and moving its delivery services in-house.
How To Dispose Of Cooking Grease The Easy Way After Frying
Which grocery store chain is quitting Instacart?
Heinen's isn't a large grocery chain, relatively speaking; there are a combined 23 locations in Ohio and Illinois, but anyone who lives near one tends to swear by it. Though Heinen's has partnered with Instacart since 2018, Winsight Grocery Business reports that the brand has chosen to ditch the third-party service in favor of its (newly upgraded) Heinen's app and online shopping platform. The grocery store announced on its website that the changes would be put in place on February 22.
"We are excited to bring the same service you expect from Heinen's in store to your online shopping experience!" the company wrote, noting that rather than have a third-party worker come in and do the legwork, the chain is opting to have grocery store employees select the items for customers instead. Curbside pickup is included in the service for free, but Heinen's will also offer delivery for those who request it.
The benefits of in-house grocery shopping and delivery services
While Heinen's did not explain why it is cutting ties with Instacart, in-house service is ideal for plenty of reasons. I've gone grocery shopping and watched Instacart employees looking around helplessly, trying to find highly specific items in a store that's perhaps unfamiliar to them. I don't blame them; grocery stores are complicated, and no two locations are stocked or organized the same way. A grocery store employee who's more familiar with the store layout is likely to locate every item more efficiently, as well as identify better quality products, since it's their expertise.
It will probably be an overall cheaper option for Heinen's customers as well. My local Jewel-Osco, which is owned by Albertsons, offers in-house services, including delivery, and it's both cheaper and, in my experience, more hassle-free than Instacart's service. Ultimately, I still prefer shopping for my own groceries (it's nice to get out of the house regularly!), but on the rare occasion I get my groceries delivered, it's always through Jewel.
What in-house grocery delivery means for Instacart
Instacart does not feel that the loss of Heinen's business is going to affect it all that much. In a statement to Winsight, Instacart said:
We're proud to support retailers of all sizes, and while Heinen's Fine Foods has decided to stop offering customers the ability to order via Instacart, we continue to expand and deepen our relationship with beloved local retailers across the Midwest—including Aldi, Meijer and Fresh Thyme, among others—and enable retailers to offer the best possible e-commerce experience to their customers no matter how they choose to shop.
If Instacart can keep up with the explosive growth of economy chains like ALDI, the company won't exactly be hurting for the lack of Heinen's business. On the other hand, it's possible that Heinen's bold move to ditch Instacart would get other chains to consider the same move.