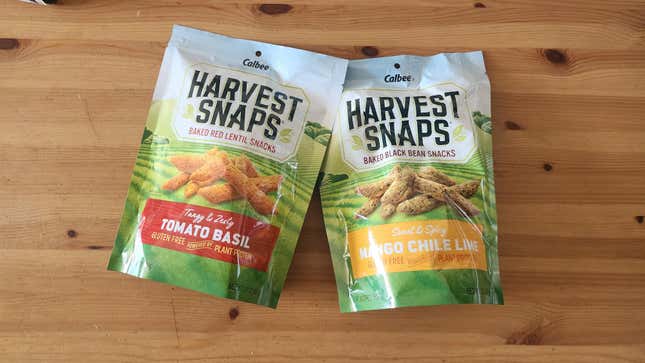 Here in Chip Country, I'm usually reviewing potato chips and corn snacks—pretty unhealthy rations, for the most part. But speaking with Takeout managing editor Marnie Shure recently, my interest shifted when she told me that she saw many alternative chips at the Sweets and Snacks Expo this year. It makes sense; chickpea puffs, lentil snacks, veggie straws, broccoli chips, buffalo ranch cauliflower bites, and on-the-nose brands like Off The Eaten Path (ugh) are all finding success with a rising amount of health-conscious, plant-driven consumers.
How To Dispose Of Cooking Grease The Easy Way After Frying
Plant-based food is on the come up not just in popularity, but in terms of flavor and texture, too. Food science has resulted in better vegan cheese, dairy-free butter, and meat replacements, and chefs are getting more creative with their offerings as well. Bottom line: Consumers have never had more delicious plant-based options at their fingertips, a fact that extends to the snack space. Veggie Straws, first produced in 2005, aren't the only game in town anymore.
But is newer always better? To dig into this, let's examine Harvest Snaps, which were first created by the Calbee company. Calbee is a hugely successful Japanese brand that has a vast catalog of snacks, but if you've seen the name here in the U.S., it's most likely on this bag of shrimp chips. The company expanded to North America in 1970, which is also when it first introduced saya pea snacks. In 1999, those pea snacks became Snapea Crisps. These baked pea snacks would finally be rebranded to Harvest Snaps, and the most recent changes to the product's packaging and rebranding came in 2022. Every major grocery store seems to carry them nowadays.
So, these popular green pea snacks have been around for much longer than people realize. They might seem like they're new, a byproduct of the exploding alternative snack trend—but in fact, they're the pioneers of it. So, are they any good?
How do Harvest Snaps taste?
Harvest Snaps are made with a combination of blended peas and rice. There's canola oil included in the ingredients, but probably not too much, as the fat content remains relatively low. This is a baked snack, not a fried one, and the oil is mostly there for flavor. Baked snacks can usually only go so far in the flavor department, and usually fall short (see TGI Friday's chips), but the texture here is what makes them worthwhile.
The strength of these seemingly edamame-inspired snacks is a puffy, crunchy, airy texture like Cheetos Puffs. Eating Harvest Snaps is joyful and easy. They're delightful to munch on, which is the main reason I've bought them for years. The serving size is also great: Each 3-oz. bag contains roughly 400 calories. That means you can swiftly finish an entire bag in one ravenous session. Like most good things, Harvest Snaps are meant for volume snacking.
However, this baked pea snack still needs help. It can't stand on texture alone. The lightly salted product offers nothing exciting in terms of flavor. Luckily, Calbee has capitalized on the appealing texture of these snacks by developing more interesting flavors. Some of Harvest Snaps' other flavors include Tomato Basil, White Cheddar, Parmesan Roasted Garlic, Wasabi Ranch, and Mango Chili Lime. The only reason I tried Harvest Snaps in the first place is because I was enticed by the advertised Mango Chili Lime flavor, which is actually made with a black bean base (still shaped like peas though, weirdly). The mango flavor is deliciously sweet, fruity, and has a hint of spice. It's exactly the type of thing that feels at home in Los Angeles, where many residents crave fruity heat.
The ingredients for the Mango Chili Lime Harvest Snaps list brown sugar, molasses, onion powder, garlic powder, and mesquite smoke flavor. This particular bag of Harvest Snaps packs a sweet and tangy flavor with subtle spice. They also provide a great thesis for the future of alternative snacks: Interesting flavor profiles work best.
Plain salted chips can often be excellent. Nacho Cheese Doritos and Cheetos are delicious in their simplicity. That's because potato, corn, oil, and a deep fryer can take snacks very far. But baked snacks made from black beans, lentils, cauliflower, kale, and chickpeas need an assist. They have to include complex flavors, and many of them don't. Mango Chili Lime Harvest Snaps understand the forethought required to build a flavor worth returning to, and Calbee has continued to adapt its products successfully over the decades to stay relevant. I suspect that Harvest Snaps will continue to find a strong market for years.